5 Minutes with our March Meetup Panel
Lanre and Francesc know how to make use of themselves, their bodies, and the space around them. They aren't limited by location, studio size – these phenomenal cross-disciplinary artists both know that creativity can thrive in diverse and unexpected places. Lanre and Francesc will both speak at our upcoming Zealous Meetup (only two days away)! Hear their stories in full, meet them in person, connect with other creatives, and get inspired this Thursday evening. In the meantime, enjoy this rapid-fire get-to-know-the-panel and sign up for your free ticket today. Spaces are filling fast!
Lanre Malaolu
LAB: You're a trained actor, performer, and dance company founder without formal dance training – can you say more about how you blend these experiences to tell stories?
LM: Before anything else comes into play in regards to blending the skills, I create an artistic "thing" – it all comes down to the idea, and the impulse to tell a story. This idea is, of course, never fully formed at the start and constantly changes shape, but for me, that initial thought is the heart of it all. I allow time for that idea to just live in my head for a bit, then write down any movement, text or scene ideas that come to me. But I never let myself get too invested in the "writing down" process because the real meat is found when I get my ass in a studio and play.

LAB: How do you keep a story alive through the entire body?
LM: Allowing myself to be an open vessel, physically and psychologically, to whatever story or idea I'm exploring. If it's something far away from me, I give myself the time to find my own way "in" by using my own life experiences, relationships, etc.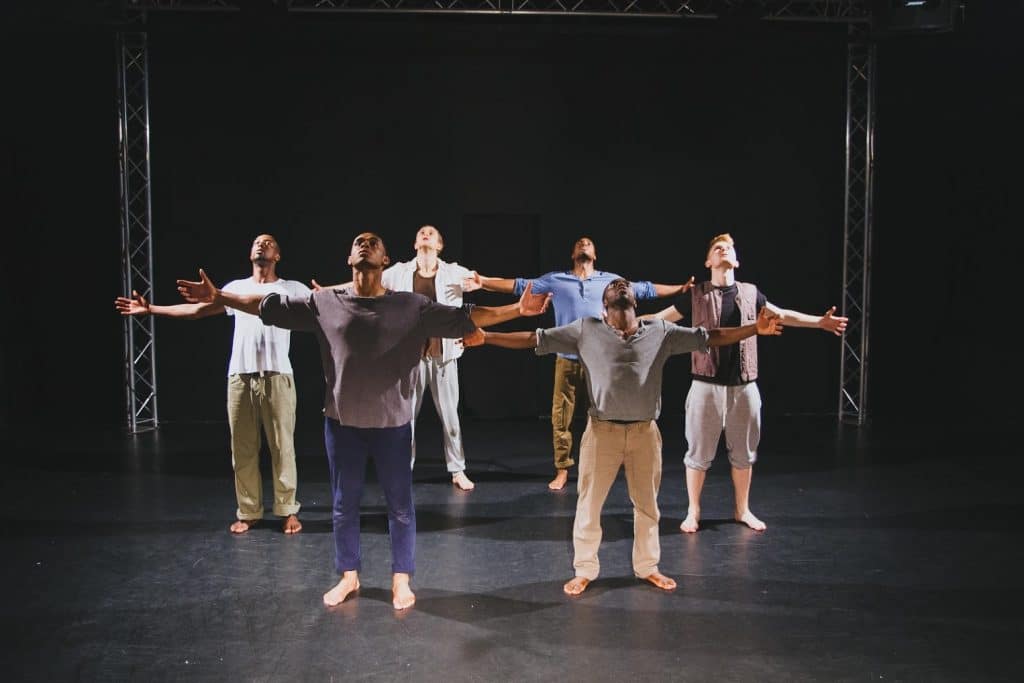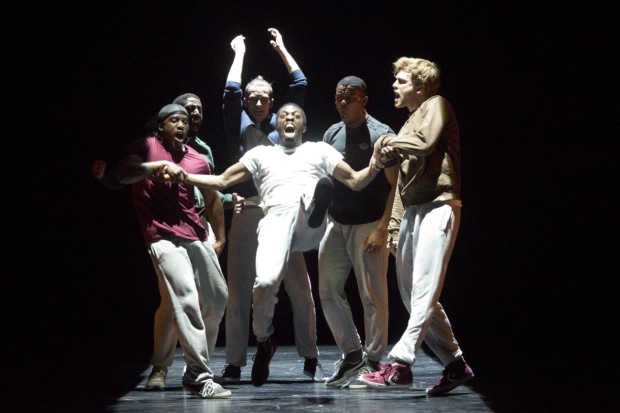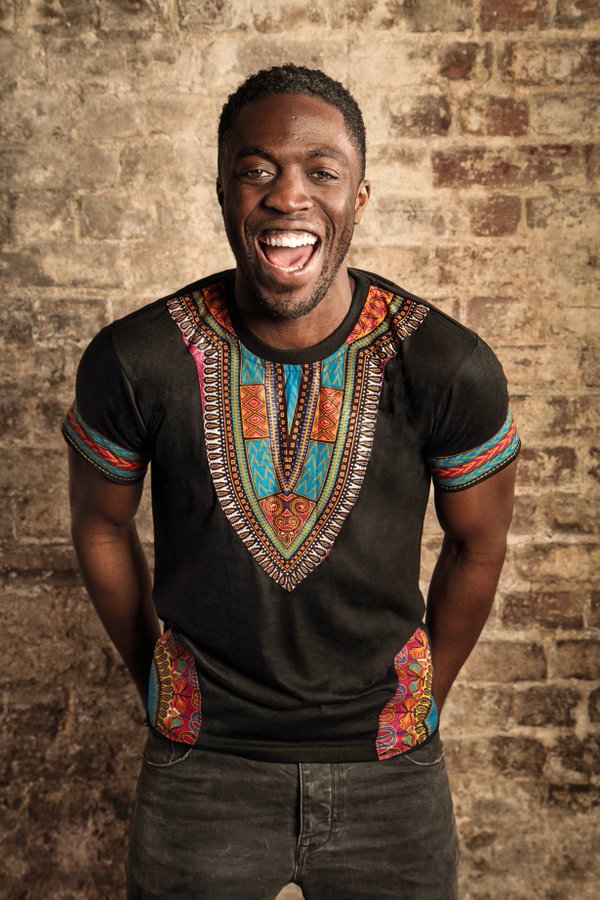 LAB: Your work explores masculinity, racism, police brutality, subliminal stereotypes and habits… how do you think choreography, as a medium, allows you to explore those themes in a unique way?
LM: I'm obsessed with human being's shared capacity for expressive physicality. Some people are consciously aware of the breath of their own physicality, and some aren't, but on a subconscious level, I believe we all are. This is why, when you watch great dance or movement, you sometimes don't have the words to explain why you thought it was great. It's because it taps into something deeper, a fundamental physical understanding that we all have, but are not necessarily aware of.
This is what fuels my use of choreography and movement as a storytelling medium. You can be told about a terrible incident, or see something on the news, and your mind takes in that information in a certain way. Movement and choreography connects to people in a much more organic and raw way, and, in my view, is sometimes a more powerful and impactful vessel for change.
LAB: Favourite meal (and why)?
LM: I'm of Nigerian heritage and have to go with a Nigerian dish called Jollof rice (with plantain and chicken). And a Nigerian dessert called Chin Chin. Why? Cause it's SEXY.
Francesc Serra Vila
LAB: What came first: architecture or performance? How (and when) did you come to understand the relationship between performer & space?
FSV: Performance. Since childhood I have been passionate for theatre, specifically a couple of shows that had a big impact on me: a musical with a ship replica moving on stage, and the Barcelona 1992 Olympic Ceremony. During those times, my garden was the place I let my imagination fly.
Then I went to university. I studied architecture, but I couldn't resist bringing along my interest for performance and set design. There was a special moment during a dance festival in Barcelona when architecture students participated in a workshop run by a choreographer at Fundació Miró. It was great! I found myself, with other students, not only talking about space, but also exploring the building with our bodies and creating a dance piece within it.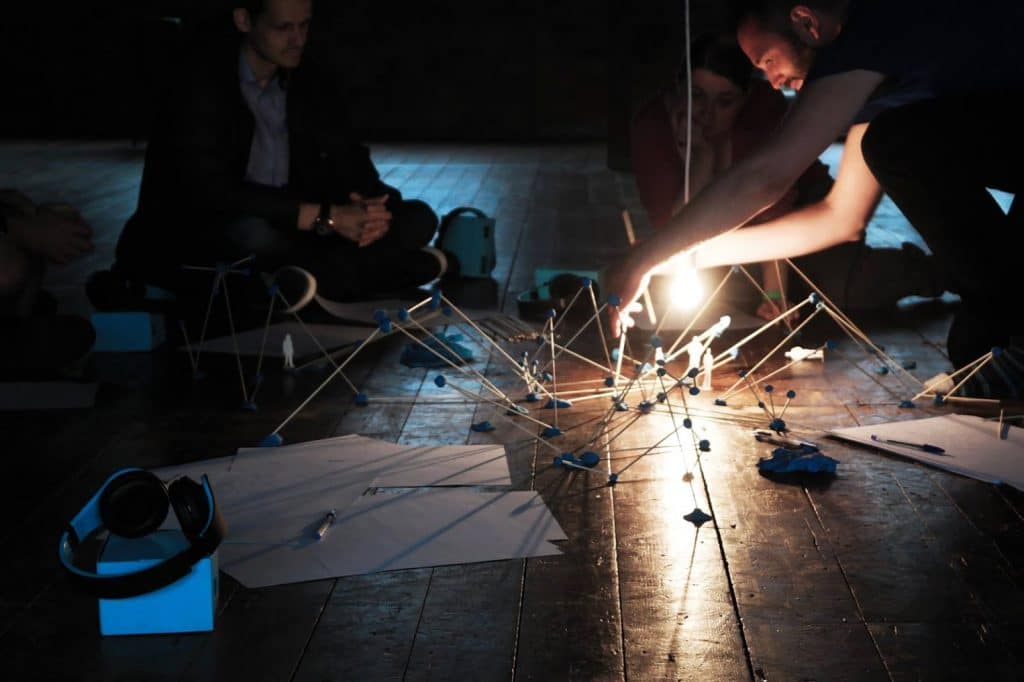 LAB: What are the biggest questions you have for yourself as a creative / maker / performer (what's next, why am I doing this, etc.)?
FSV: The work I've done since 2013 – when I started presenting public projects –is very diverse, from a design for a dance piece to an immersive installation of 2000 balloons, furniture, a video clip… the projects may sound very different, but they all have a certain aliveness. They evolve, reflecting the transience and the idea that nothing is permanent. I lived in Wales for three years and used art as a tool to inspire people and move the region forward. The work I presented while living there made me understand that what I do, besides expressing myself, can have a positive impact on others.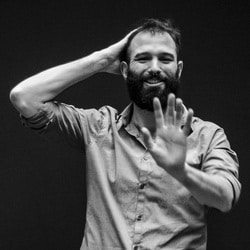 LAB: What do you enjoy most about your work? What is the most exciting part of site-specific, immersive work?
FSV: Its diversity. Whether a response to a call-out or a collaboration, each project puts me in a different environment with new people. Site-specific work requires observation and creating within constraints that invite people to experience that place differently; immersive installations and one-to-one performances allow me to create a space that stimulates not only sight, but all senses, and that raises self-awareness. Another aspect that I really enjoy is the making process, decisions made during the creative process, and research. I usually start by making models – sculptures that grow little by little, reaching a point at which I, or the visitor, becomes part of it.
LAB: Favourite place you've ever visited (and why).
The Worm´s Head, an island shaped like a giant sea serpent in the Gower, Wales. It is not just a beautiful landscape, but an amazing experience. The island is adjoined to the mainland by a rocky causeway, exposed for only two and a half hours before and after low tide. On the island's topography and fauna (including Atlantic grey seals) is incredible, and on your way to the outer head, out of the blue, you are surprised by a natural glow hole: a rectangular window, perfectly shaped, that you hardly believe it was made by nature. A window to the horizon, to the void, to the infinite.