A Crack Up at the Race Riots by Leo Gabin
CPH:DOX, an annual documentary film festival in Copenhagen, is still relatively young (founded in 2003), yet it's already an influential springboard for non-fiction film. Part of its immediate success came from the program's focus on redefining the structure, form, and interpretation of documentary filmmaking. Art and experimental film are given equal screen-time to fact-checked exposés. Hits like The Act of Killing by Joshua Oppenheimer find their first audiences here. Skimming through this year's lineup feels equivalent to reading a forecast for news headlines and cinematic trends.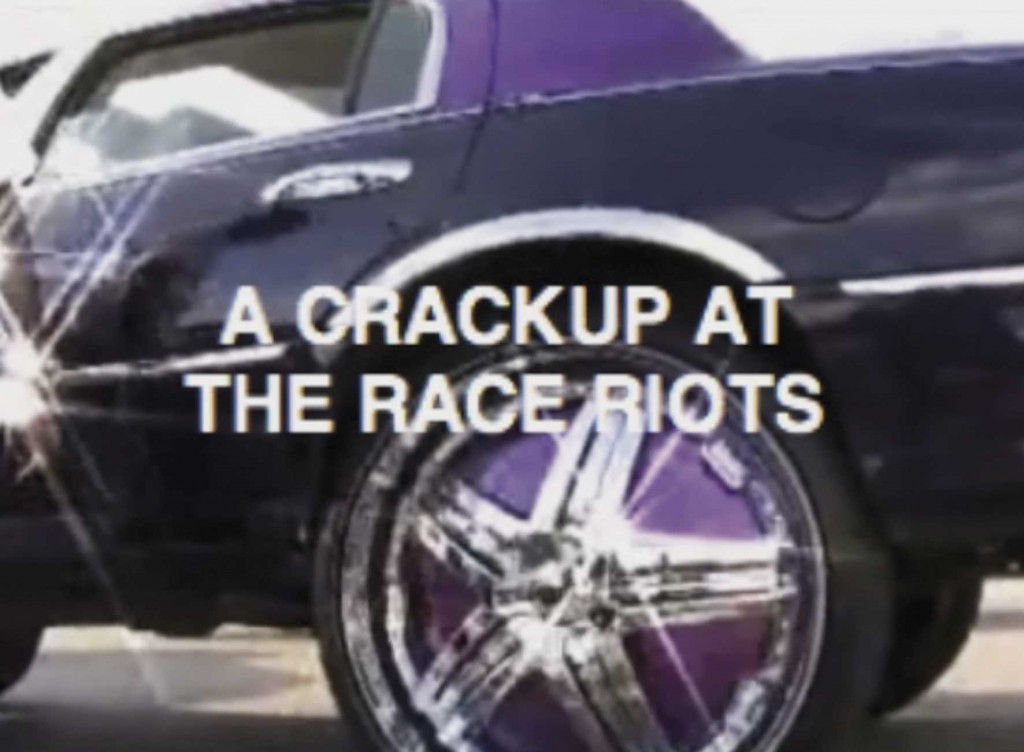 Here are the most promising and predictive films for this year…
Let's begin with my personal favorite section of the festival, New Visions (innovative art films). This program is often the most representative of CPH:DOX's extremely open minded definition of documentaries. For example, Joachim Hamou's UIP27 is purely speculative– it's an imaginary trial set in a courtroom in an united version of Israel and Palestine. This rather serious work is contrasted by the "hallucinatory adaptation" of Harmony Korine's novel, A Crackup at the Race Riots, by a group of Belgian artists who operate under the moniker Leo Gabin. This work was previously presented as a multi-screen installation at Elizabeth Dee Gallery, but it now takes on a new form as a single-channel theatrical experience, which will most likely enhance its nonsensical content. This year's New Visions films mostly operate by taking on serious topics: suicide, racial divides, and Middle Eastern politics, and then recontextualizing them through imagination and absurdity. In the near future, I envision more mainstream films to adopt this playful strategy, it's an easy way to steer clear of the trope of documentaries as lists of depressing facts.
One of the most anticipated sections for 2015 is a guest-curated series by the artist Olafur Eliasson. He's taken on the heavy topic of climate change, not through tedious Al Gore style wake-up calls, but by compiling artist films that offer a new way of looking at nature. A series of recent shorts titled Notes from the Anthropocene is at the heart of his program, accompanied by classics by Werner Herzog, Claire Denis, James Benning, Pierre Huyghe and more. Rethinking our relation to nature is already a common theme in the artworld, but as the planet continues to deteriorate, I'm sure we can even expect a binge-watchable Netflix series that tackles our relationship to the environment.
In the main competition, The Swedish Theory of Love by Erik Gandini is a likely precursor to tons of think-pieces and political discussions we can expect to see in the next year. Gandini exposes "societal black holes" of the Scandinavian lifestyle, which is so often romanticized by outsiders and has become a frequent point of reference for current US presidential candidates. Get ready to hear all about the pros and cons of social welfare states this year!
I'm looking forward to seeing all of these film-based predictions come true. CPH: DOX runs from November 5 – 15 in Copenhagen, Denmark. For the full program, visit here.
Lily Benson is an American artist and writer, currently based in Scandinavia. She has exhibited her work internationally, at places including The Brooklyn Museum, Nicolai Wallner Gallery in Copenhagen, The Malmö Art Museum, and Museo Nacional de Bellas Artes Argentina.
www.lilybenson.com