Shiny latex, parted limbs and cinched-in waists. Pastel decor, hair rollers and collagen masks. Mud baths, collarbones and lacquered pouts. These are just a few of the supposed markers of femininity, embedded in most products, marketing and branding. The woman, a work in construction, is expected to evaluate, compare, and improve herself according to the unattainable ideals demanding perfection. The labour, it seems, is never ending. However, photographers like Juno Calypso, Vasilisa Forbes and a host of others are intent on manipulating and critiquing the very techniques used to market female beauty and sexuality. In turn, the commercialized 'hyper-feminine' becomes a site for experimentation and protest.
For London-based artist Vasilisa Forbes, public space presents a direct opportunity to address how we consume marketed ideals. Her recent project, #Waxchick, saw her cast herself in a hyper-sexualised, highly-retouched faux-advertising campaign across London and NYC, her images finding their place on numerous billboards. "I initiated #Waxchick as a dialogue with the public to pose the question of whether they consider this kind of objectifying and highly sexual imagery normal". It was this direct communication with the public, outside of gallery walls, that fostered debate on the presentation of women in advertising. These explicit images, void of a product to sell, caused controversy and some confusion from onlookers…not to mention censorship by various advertising agencies. It seemed that the very images used to question and empower women through sexuality were seen though a lens that refused to acknowledge the potential for thwarting ideas. "How can I get the message out on public platforms in the right way if they are always being censored by people that have no idea what the image means and are just using their own conceptual judgement?"
In a similar vein, London College of Communication graduate Juno Calypso fearlessly tackles constructed femininity, but uses intricate set design to stage her alter-ego, Joyce, in various scenes of beatification. These film-like images, pastel-tinted and sugary sweet, are undercut with a tone of melancholy. Joyce is consumed by the femininity she must gain and maintain through various rituals – mud baths and facial masks included. Her unenthusiastic, bored and somewhat emotionless facial expressions sharply contrast the supposed 'blissful' transformations that many beauty products promise. But for Juno, there is something quite luring, if not empowering, about these beautification routines. "What I love about Constructed femininity is the art of it. I watch makeup tutorials on YouTube all the time and despite always having worn makeup I used to have that attitude of, 'what are we doing? What are we wasting our time and money on?'" She says. "Now I realize that it's not the makeup that's the problem, it's the way society looks down women who wear makeup that's the problem. I think it's wonderful that every morning women wake up and paint." Taking inspiration from diverse sources such as The Beauty Myth by Naomi Wolf to RuPaul's TV show The Drag Race, Juno – like Vasilisa – isn't against beauty or sexuality itself. In fact for both artists, the Hyper-feminine can double as a liberalising tool.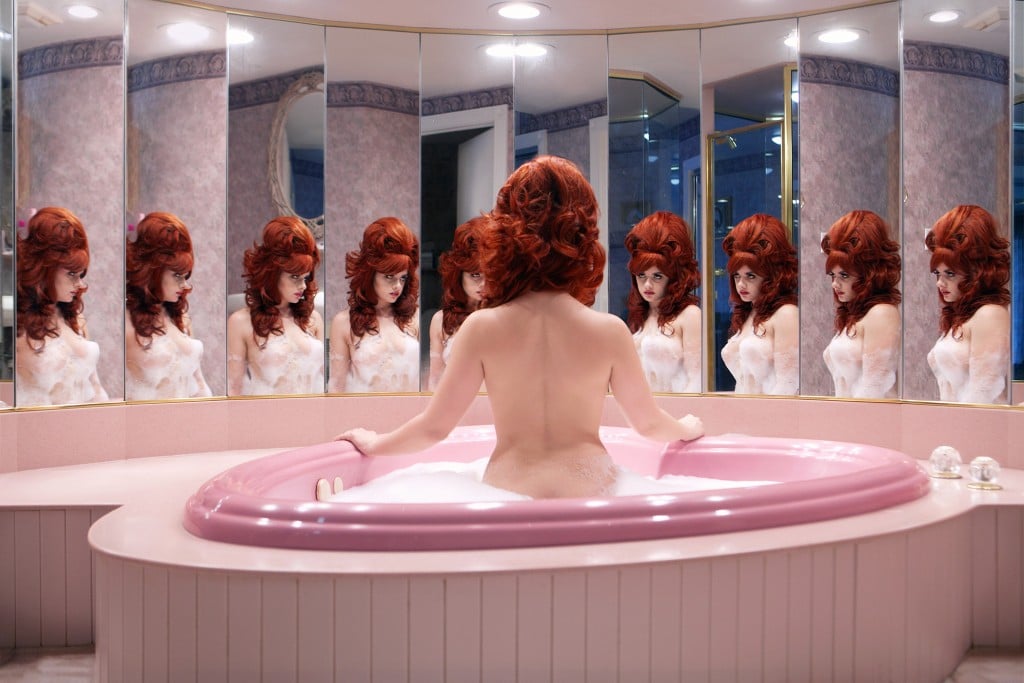 Article written by Monique Todd. Monique is a London-based arts and culture writer. Her writing has appeared in Dazed and Confused, Twin Magazine, CNN Style, Hunger TV and Sang Bleu, amongst others. Her current work concerns the representations of gender, identity and bodies within visual culture and technology.