Meet Luke.
There's more to diversity than colour. As a colourblind illustrator, Luke Gray's creative evolution hinges on global experiences and exploration. He painted murals on a hitchhiking trip from Russia to Thailand and visited over 50 countries over the course of four years, eventually settling in Southern China and building a studio. Influenced by texture and patterns, this multicultural artist celebrates diversity by representing his newest experiences and adventures in art, marrying curiosity with creativity, and observing the subtleties and stark differences between the peoples, traditions, and cultures around him. Luke is fundamentally entranced with the world around him – his beautiful and intricate work reflects that.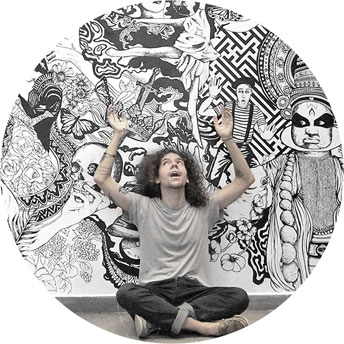 LAB: Your work, Complex Complexion, was inspired by a four-year journey across several continents. What inspired that journey? Where did you go? Which place was most memorable?
LG: The urge to travel can't be explained really, but as an artist I'm always looking for inspiration, and travelling is an endless source of that. I'm driven by the need to find new experiences, see more places and new faces. My favourite thing to do in a new country is just sit on the street and observe how unique people's faces are, how their features look similar or different to others. Over the last four years I backpacked through more than 50 countries, my favourite places being: Mongolia, Bali, Israel & Morocco. My favourite might be Israel because I hitchhiked most of the way, and they pick up hitchhikers the quickest – I never had to wait more than 5 minutes for a ride. It's also a stunning country with beautiful people.
LAB: How did your four-year journey impact you as an artist? How do you think it tested you as an artist and traveller? Would you recommend experiences like that to other artists (why or why not)?

LG: My "four-year journey" is still going, so I think travelling is part of my life now. It impacts my work through my materials firstly, as I am limited to use the tools of that country. For instance, I couldn't buy paint easily in Morocco, so I mixed powdered pigment, and in China I painted with ink and had to use wolf hair ink brushes. In this way, travelling has forced me to use different methods, and of course inspired my subject matter. I also love to incorporate traditional patterns into my work, be it from local textiles, wallpaper, or tribal symbols—there are patterns everywhere. I would recommend travelling to other artists, although the scale of your work is limited when you travel with everything in a backpack.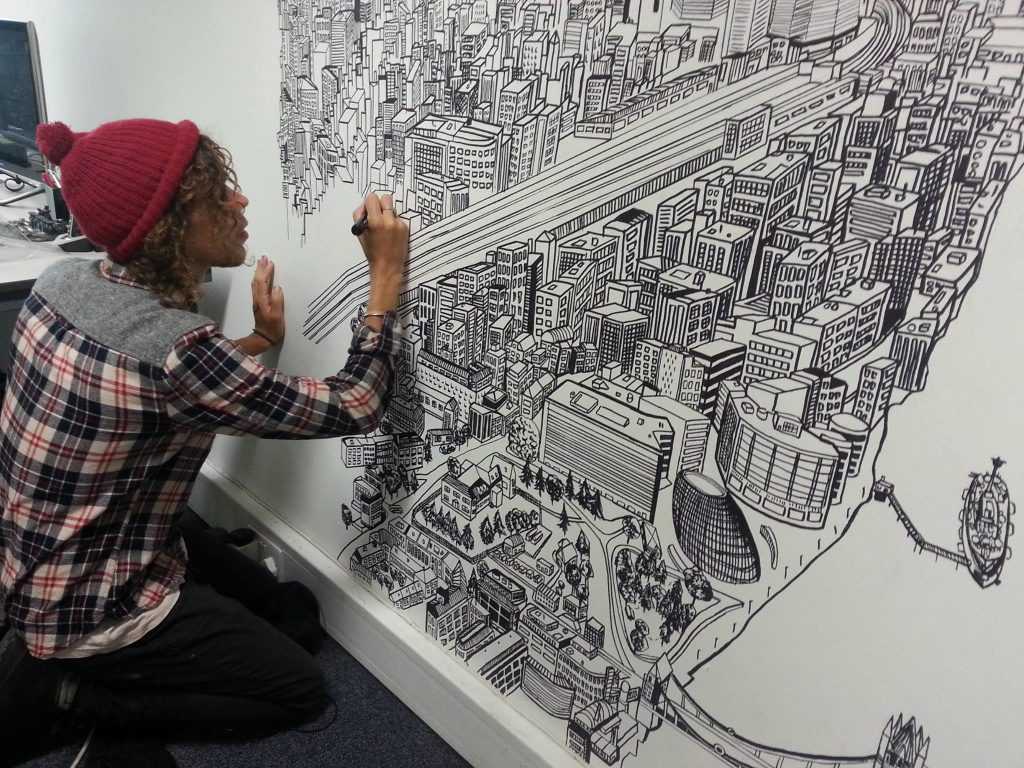 LAB: You used quite unique materials for Complex Complexion, yes? What inspired that choice?
LG: When I make art, I like to incorporate the native materials of the place I'm in. When I was in China, my most readily available materials were soy sauce, coffee and tea. Every morning I used leftover coffee or tea to paint, and eventually I found there was a huge variety of tones I could achieve with just those three materials. I like to think the spirit of the Chinese countryside is imbued in that painting somewhat. It still smells like coffee…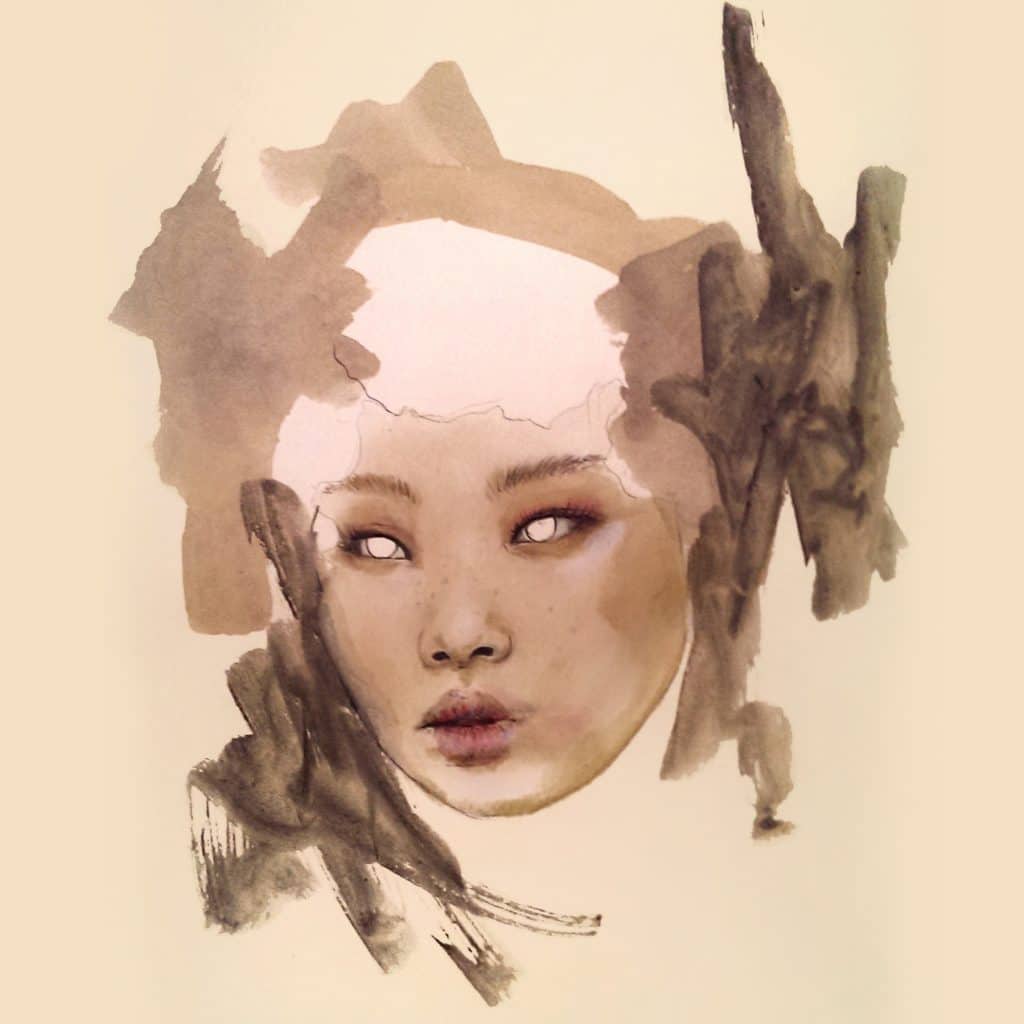 LAB: What does diversity mean to you? How does your work exhibit that?
LG: Half my family is Caribbean and half is English so being mixed race forces me to see that everyone is mixed, really. If you trace your family tree back far enough, we are related, so I believe everyone is as diverse as everyone else. I would like to make art that brings together this message—perhaps through my use of international patterns I can send this message.
LAB: What other mediums / artists inspire you? How?
LG: Mediums: Thai laqour work, Japanese,Turkish erbu, Balinese wood carving, Russian prison tattoos, Tibetan sand mandalas… Artists:  Virgil Finlay, Gaspar Camps, Privat Livemont, Austin Osmand Spare, William Morris, Utagawa Kuniyoshi, Gojin Ishihara, Albert Durer…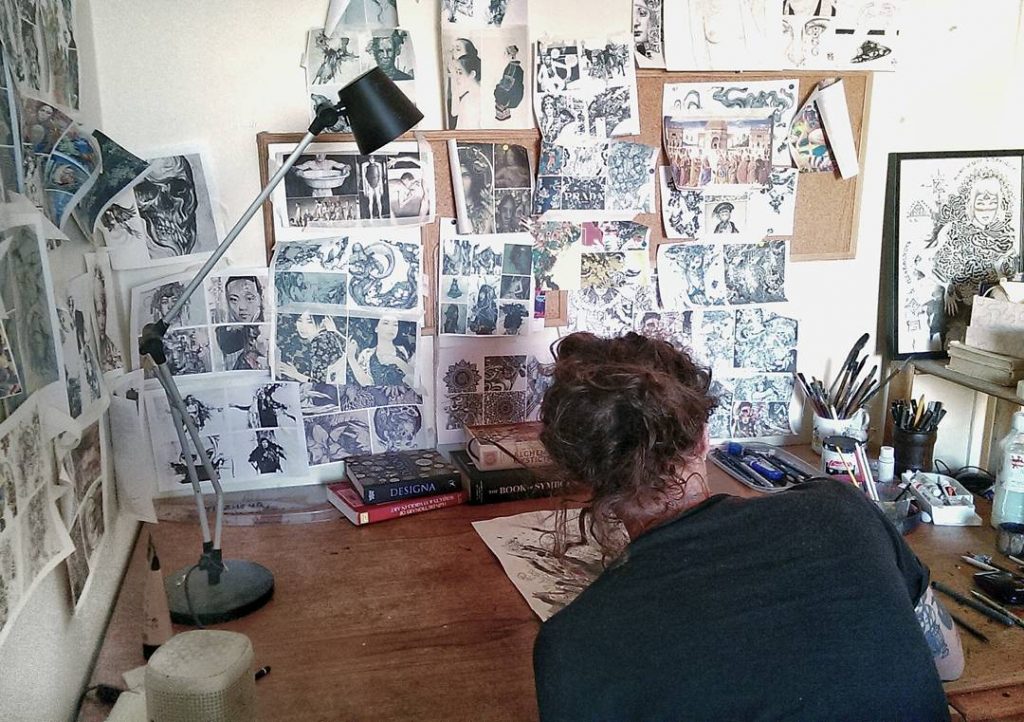 LAB: What made you most proud of this piece – and what's one reason why you're most proud of yourself?
LG: The variety of tones I achieved from using natural pigments in the coffee and tea. I think being proud is a form of gloating but I'm grateful for a lot of things though. Mostly my wife.
LAB: How has your approach to your craft grown / changed over time? What would you say is the biggest change from when you started in your art form to now?
LG: I would say I've matured artistically the last four years. I take more time in composition and detail, and my work is getting much bigger as time goes on. Being colour blind I used to work solely in black and white line drawing, and now I try to use tones of grey, brown & red to stretch my ability a bit.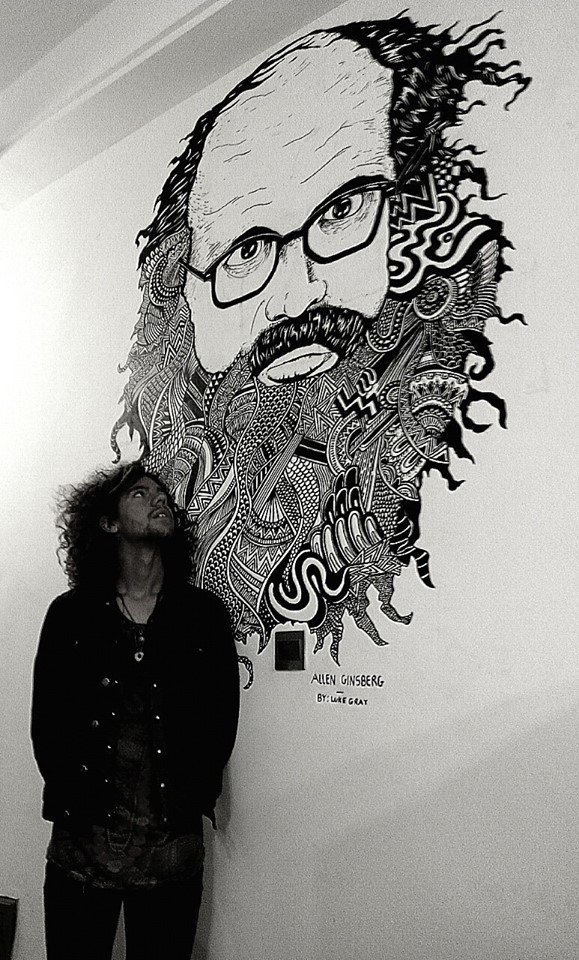 Want to be a Zealous Featured Artist?
Join Zealous for free today! We're always on the look out for the latest and greatest creative talent.