Meet Merlyn.
Meet Merlyn: painter, producer, and big thinker. After going against the grain and pursuing an "imaginary art degree," he's built a meaningful and intentional art practice with roots in mentorship and proactivity. There's a lot to learn here – Merlyn doesn't just seek opportunities: he creates them. We're so pleased to host this open-minded creative not only on Zealous, but also at one of our Zealous Meetup events! See what he said and learn more about his journey as a creative collaborator here.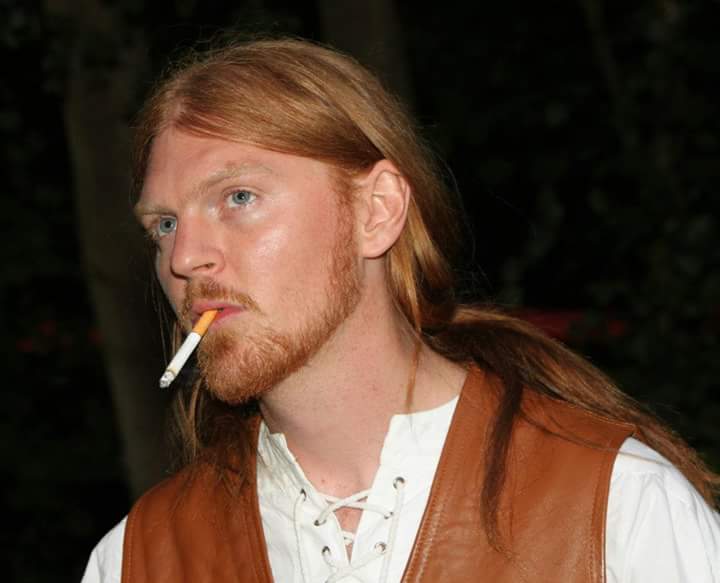 LAB: What does creativity mean to you?
MG: I find it hard to answer this question without being to expansive or reductive. For me, creativity is a treasured resource that I call upon to move forward when I am faced with a (both metaphorical and literal) blank canvas.
LAB: You say you've recently completed "an imaginary art degree." What does that mean? What encouraged you to work outside of conventional education? What was most rewarding (and most challenging) about that experience?
MG: My imaginary art degree was many of the good things that come from a normal degree without any of the bollocks. I took classes (both in-person and online), took on mentors, painted as much as I could and studied the hell out of a handful of artists whose work inspired me and made me want to improve. It started at a time that most of my artist friends graduated from the local art college. Some of them were incredible artists and I wanted to spend a lot of time with them and learn everything I could. When we hung out, all I wanted to do was paint together – but all they seemed to do is talk about painting, art, gallery shows etc. I became frustrated and decided to work hard to develop their skill level (from my perspective) so that I'd be part of the gang. But I just wanted to paint. I didn't want to be chatting shit about what it meant. I spent the next three years purposefully studying the practice of painting and skipped the academic intellectualizations, which I saw as distracting.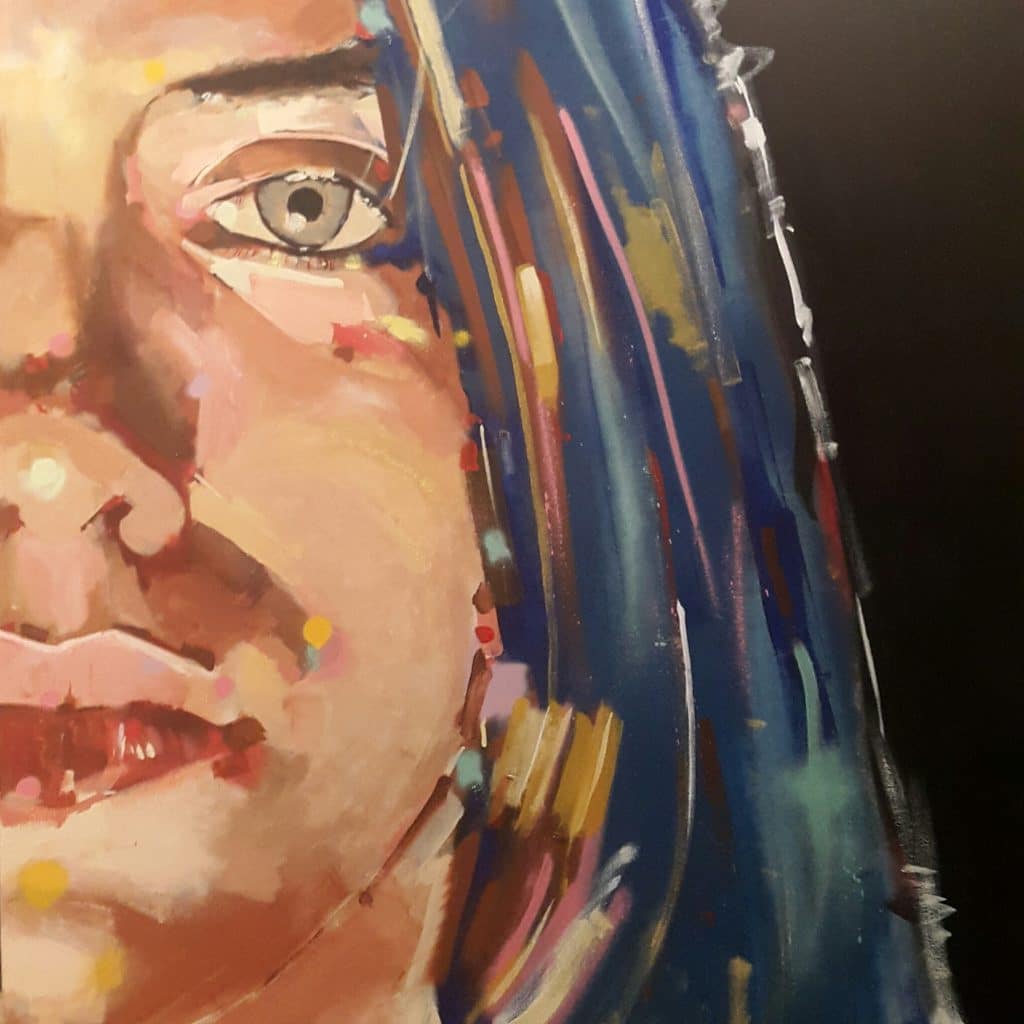 LAB: During your study, how did you select your mentors and projects? How many mentors did you work with (and was it ever two at a time)? How did they help you hone your craft?
MG: None of my mentors were pre-selected – they were all people I serendipitously met along the way. The ones who really made a difference to my practice all started as friends. I had two main mentors (separately) in the first and second year of my practice, but as I hung out with a bunch of artists and art graduates (and because I was polite and inquisitive), loads of people gave me bits of their time and provided guidance and help. I joined an artists co-op and took part in an endeavour for cheap studio space in return for refurbishing a premises. Through that I met a cool, older lad who ran a life drawing class and seemed to be able to answer any question I had about paints and brushes or any other tools and materials I was interested in. He introduced me to quality materials and spent time outside of his class helping me figure things out.
My second-year mentor was someone I looked up to – fate was kind to create a situation where I could learn from him. By the time I met this dude, I was improving exponentially (due to focused and purposeful study) and taking a lot of pride in that fact. This guy became a fast friend; we'd hang out at least once a week at his studio and paint together, side by side. He guided and encouraged me – I soaked up as much as I could. As our 'team painting sessions' progressed, he invited me onto jobs he'd been commissioned for (like giant warehouse-sized murals or backdrops for music video shoots), which were some of my favourite-ever projects, and provided me with the experience to take on similar projects for myself.
In truth, I didn't select the projects I worked on in those three years – I just said yes to everything. Whatever it was and whoever was asking, if it involved painting I said yes! There were obviously some projects that were more enjoyable because of who they were with. Others were favours to friends and some were community projects for causes or people that I wanted to help out.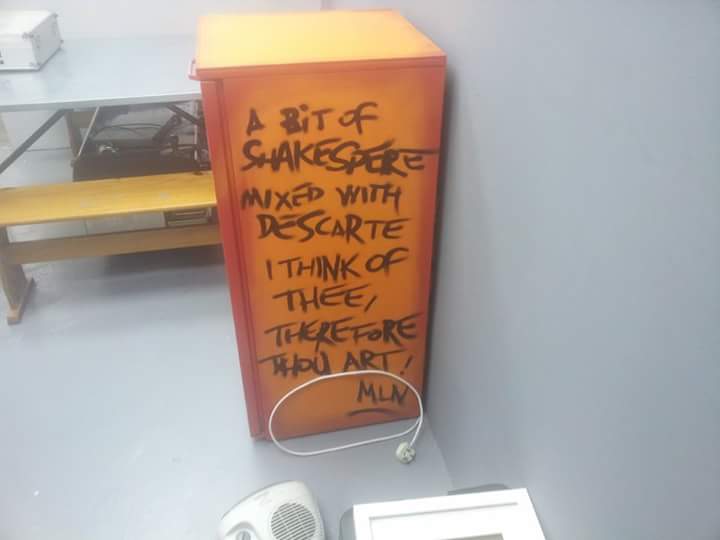 LAB: Of your three years, which was most difficult? Why?
MG: Definitely the end.  During those three years I had an abstract goal (to gain 'graduate level' ability as a painter). When the three years ended I didn't know what to do next… that's when I decided to do my imaginary masters (jk).
LAB: Name three of your best creative habits.
MG: (1) I habitually carry a sketchpad and pens with me and use my daily commuting time to sketch or write. (2) I document all my work, mostly just on my phone camera, but the bigger pieces I photograph properly (I was taught how to do this by a dude called Guy – you might know him!?*).  It's really important to look back on older pieces and see how far I've come and where I need to apply more practice. (3) When I am working on a piece, I leave my workspace ready to start the next session straight away. Having tools, materials, and setup ready at the beginning of a session makes a big difference to me.
*That's Guy Armitage, the founder and CEO of Zealous!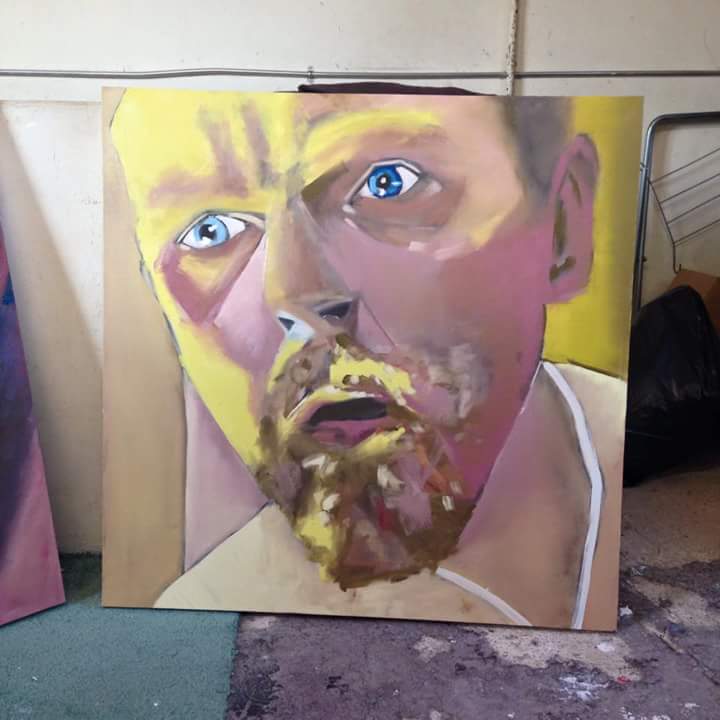 LAB: What does it mean to be a "consistent" artist (and why does it matter)? Do you think one can be a consistent artist and inconsistent person / character (or does it all tie together)?
MG: When I take on a portrait commission, for example, I know it will be good because I have put in the work to know how to make it good. I've developed a practice that I can rely on. This enables me to create paintings for others, and it's important that I can take on a commission with confidence in my abilities. The worst thing in the world for me would be to take on a commission and it be a shit painting. I don't know whether you need to be a consistent person to be a consistent artist.  I've known a few flaky people who paint like the wind blows – so I'd say no, because being a person is much bigger and more complex than being an artist. Being a consistent person is significantly more involved and is a lot harder.
Having said that, I think it's easier for a consistent person to develop a purposeful practice regime.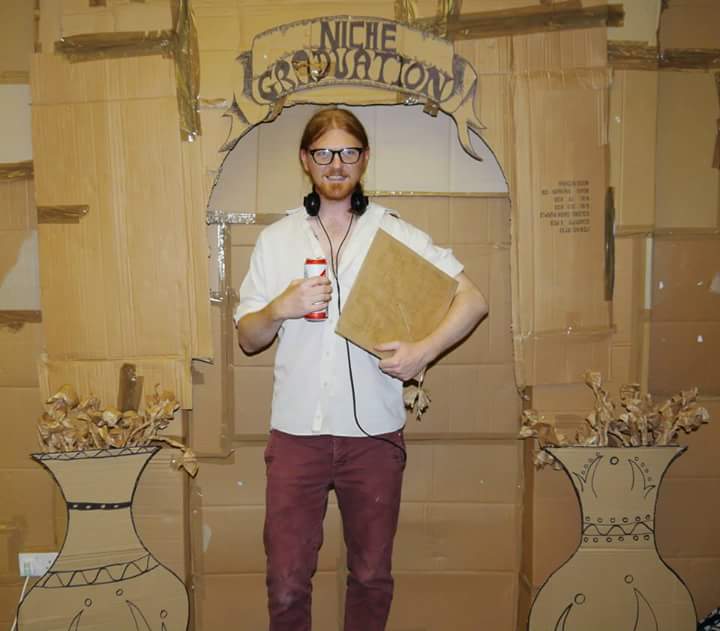 LAB: Which of your skills (take that as broadly as you'd like) are you most proud of? What skill do you not have that you wish you could develop?
MG: I'm a great producer. On projects, I become obsessive about planning and carry the project around with me (in my head) until I've found solutions to all the project's challenges. I'm also very good at improvising when things don't go according to plan. I wish I had better skills in the area of time management – I'm not good at being as resourceful with my time as I'd like to be. It's something I'm working on.
LAB: What is your greatest hope as an artist? As a person?
MG: As an artist, I hope to maintain the purposeful practice that I experienced in those three years and to not let life get in the way of my personal development. I think my hopes as a person are quite similar – to be purposeful.
Want to meet Merlyn?
Hear Merlyn's perspective on creative collaboration at the very first Zealous Meetup next month – free for Zealous artists!