Noa Raviv's innovative garments catch the eye and hold it. Her voluminous, surreal forms force the viewer to look and look again, as they attempt negotiate what is real and what's not in the Israeli New York based designer's optically mesmerising work.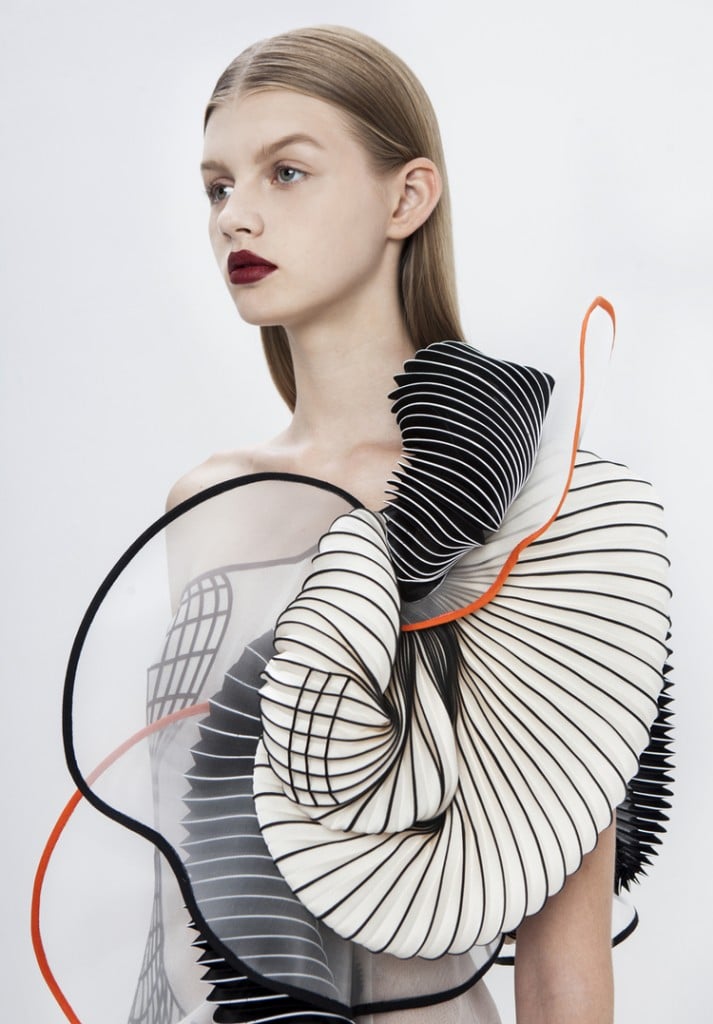 Winner of the Fashion designer of the year award at London's 3D print fair, Raviv's H​arcopy Collection h​as received considerable attention from creative communities. I recently had the chance to speak with Raviv about her approach to integrating new technologies with the handmade, and the nature of real and unreal space in the post internet age.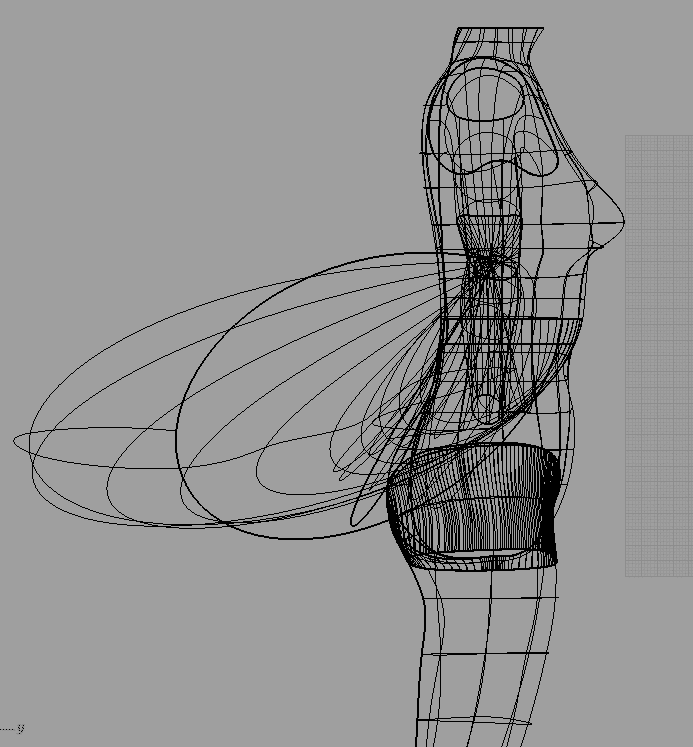 Raviv explained that many viewers assume her pieces are produced principally through digital means, but the presence of handwork is integral to the creation the finished pieces. I was surprised to learn that the majority of the garments are constructed with traditional handcrafting techniques such as expertly crafted silk pleats, embroidery and beadwork, in fact only two garments in the collection feature 3D printed elements. Much of the grid like imagery is produced through the integration of laser cut pieces the artist designs on her computer and integrates seamlessly into her garment patterns.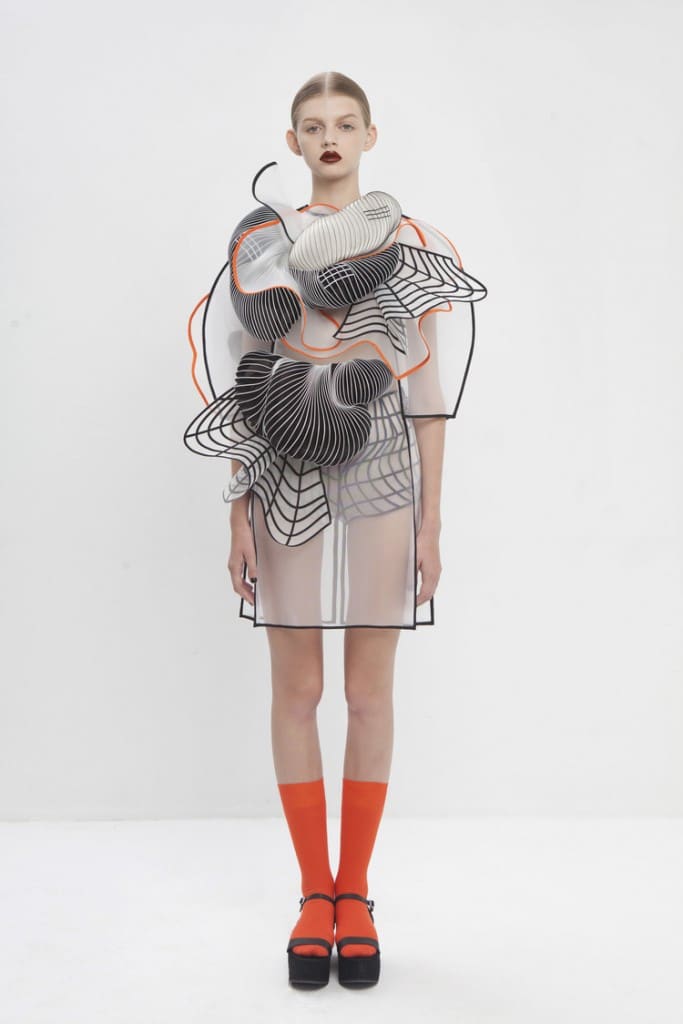 I was interested to hear Raviv describe her materials as "mainly traditional", when the final aesthetic is anything but. Her work blurs boundaries between what is recognisable as handmade and digitally produced, and succeeds to defy our assumptions and expectations of both. Raviv makes a point to underscore that materials are not ultimately what give her pieces their ultra contemporary feel, but rather the manner in which elements (traditional and digital) are applied and synthesised to construct a finished piece.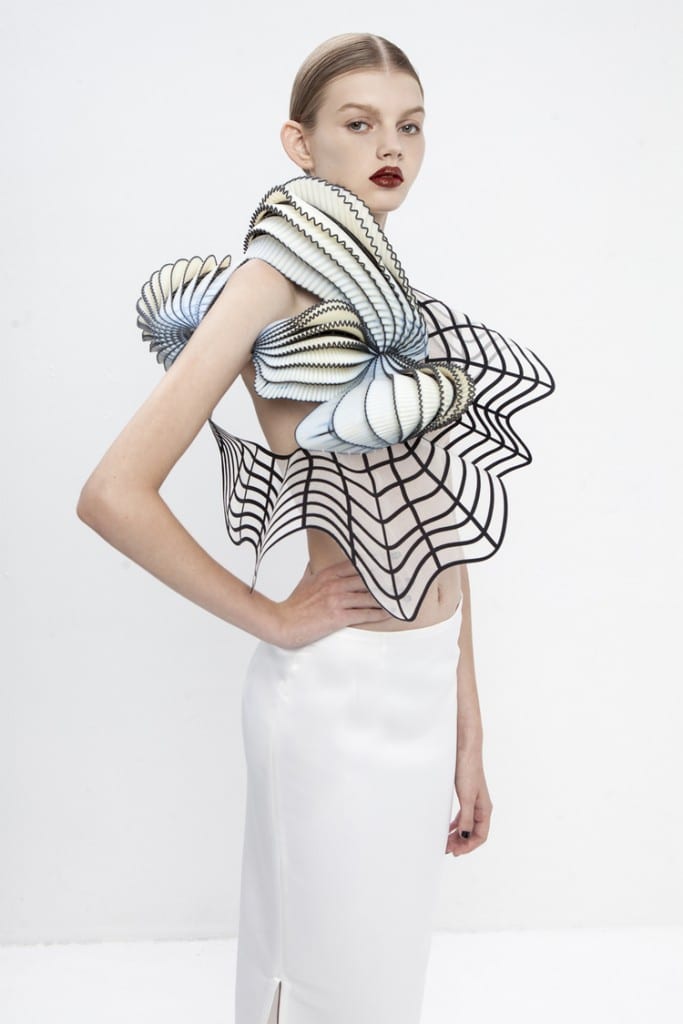 Raviv admitted she was glad to hear I was unable to pinpoint her use of materials and spatial construction, explaining that it is precisely this confusion that is one of the main subjects in her work. "The real and virtual are getting more and more mixed" the artist explained, "In my work there is a need to look and look again to reconcile this confusion between the real and the unreal." When Raviv finished her first garments of the series in 2014, she often had to go through great pains to explain that the images were not 3D renderings of theoretical garments superimposed on models, but that the images were taken of​real​objects displayed without the aid of photoshop or other digital imaging software. A condition no doubt complicated by the fact that many have only seen Raviv's work on the two dimensional digitally rendered surface of their phone or computer screen.
Through this synthesis of digital and traditional, Raviv's work asks important questions about the evolving relationship between the handmade vs machine made object. In a world where creating objects with a machine can be much more expensive than by hand, what does that suggest about the value of the objects we choose to produce and consume. Although 3D printing has become more accessible in recent years, the hardware, software, expertise and time needed to produce them stands in stark contrast to the condition whereby craft labor grows ever cheaper. Asking important questions about the relationship between handmade and machine made objects in the digital age.
Raviv is currently producing a ready to wear collection integrating laser cut, handwork, and other techniques in her New York Studio. h​ttp://www.noaraviv.com,​@noa_raviv

Article by ­Janina Anderson, Montréal.
---