The Miskatonic Institute of Horror Studies isn't for the faint hearted. Rare, cult and under-seen horror flicks are screened and dissected in monthly seminars, led by a range of forward thinking film scholars. Founded by author and writer Kier-La Janisse, the Institute found its beginnings in Canada in 2010 before reaching UK shores in late 2014, with the help of Virginie Sélavy of Electric Sheep Magazine.
So far, the series has achieved incredible success, underlining the importance of viewing and dissecting offbeat horror films outside of the university context. Below, Kier-La tells us what makes a good horror film and why the mainstream needs to catch up with the innovation of independent horror movies.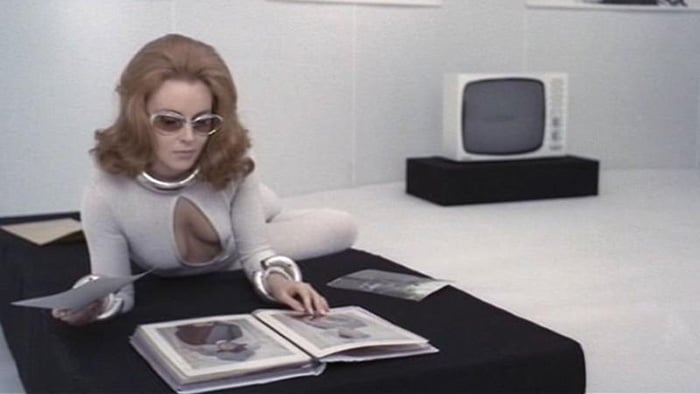 Femina Ridens, Piero Schivazappa, 1968.
What do you think makes a good horror film?
Being able to sustain dread or suspense throughout is key. But beyond that it's often very subjective. I think most will agree that you need characters that you like watching – they don't have to be likeable people, but they have to be watchable and interesting. Take a movie like Fred Walton's April Fool's Day (1986) for example – in an era rife with ensemble slasher films, that one stands out as having a really interesting, believable cast. You can actually buy that these kids went to college together. A lot of filmmakers like to hype 'psychological horror' over gore but I think that is often used as a stratifying distinction and I think you can make a very effective horror film with both.
Has the horror genre already reached it's full potential? (if so, when?) Are there more boundaries to break? What do you think contemporary horror should be doing now?
Oh no, there's always more. I mean look at Westerns – people say there are only three stories in the Western genre that get retold over and over again, but that is still a vital and interesting genre. There is actually a lot of exciting stuff happening in the horror world now – I think we're seeing the equivalent of the early 70s when you had all these maverick directors being given license to create their own quirky visions with full mainstream support from producers and critics alike. And as I pointed out in a recent article, there is a lot of crossover with horror and experimental cinema, sort of "arthouse horror" that is giving viewers a lot of different kinds of imagery from what they are used to. Horror filmmakers are looking to a lot of unexpected sources for inspiration and it shows in the unique films they are making. A lot of this is happening in the indie world but I would like to see it extend into the mainstream so that these challenging films become the norm and studios can stop wasting money on sequels and remakes.
What are some assumptions viewers may make about horror films that can hinder the viewing experience/experience of the genre?
The average person thinks of horror as just slasher films and torture-porn, so that is a big part of what we're counteracting. Of course it is a much richer and far more long-standing tradition than those relatively young subgenres, it is a genre that has given us some of cinema's greatest masterpieces and that has consistently broken boundaries that create real cultural change.
What films have you touched upon so far in the Institute?
The films we have covered in the class have ranged from scary classroom safety films, to the experimental films of Antony Balch, to Sadean cinema from around the world. We've had classes on landscape in horror cinema, and we even have a live reading coming up of a long-lost teleplay by Nigel Kneale, one of the most influential writers of British television. The class coming up this week (Nov. 12th), Jim Harper's class on German 'Krimi' films – which are very stylish adaptations of Edgar Wallace Mysteries – is an important class in understanding the European film industry in the 1960s, its co-productions and cross-influences, because these films in many ways prefigure the Italian giallo film. The line-up at Miskatonic is incredibly eclectic.
What's next for the institute?
We're currently planning our spring 2016 semester, which will run from January through May. The graduation ceremony will follow the last class in May. I can't reveal what we're planning just yet but it will be announced at www.miskatonic-london.com by the end of this month!
Monique Todd is a London-based arts and culture writer. Her writing has appeared in Dazed and Confused, Twin Magazine, CNN Style, Hunger TV and Sang Bleu, amongst others. Her current work concerns the representations of gender, identity and bodies within visual culture and technology.
---