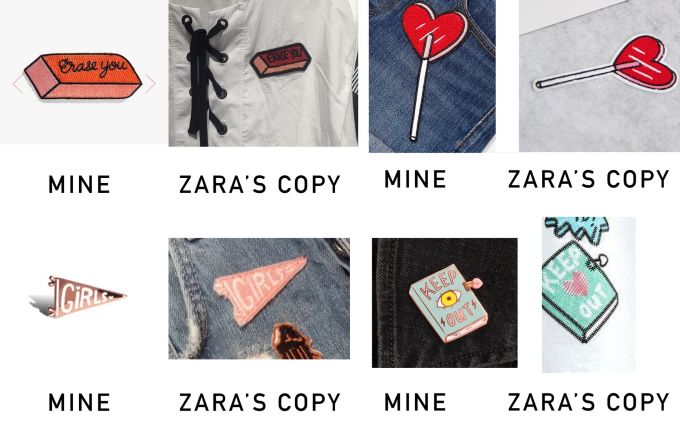 The work on the left is by LA based artist Tuesday Bassen, the right is on sale by high street chain Zara, with no attribution or credit given to the originator of the design. When challenged, the response from Zara's lawyers to Tuesday's work "The lack of distinctiveness of your client's purported designs makes it very hard to see how a significant portion of the population anywhere in the world would associate the signs with Tuesday Bassen," before going on to compare the number of website views Zara gets in comparison with Tuesday.
In short: [inlinetweet prefix="" tweeter="" suffix=""]if you're an indie designer without a global reach, your IP is up for grabs[/inlinetweet].
This is akin to self-sabotage. Big companies need to look to indie and amateur designers for fresh ideas and new trends, to catch something on the way up. By disregarding emerging talent, brands are slowly starving an eco-system they depend on. It's not just good for the eco-system, and its creative output, it's good for business. Judging by the response to Zara's designs, the public are increasingly aware of the ethics of larger companies and have the tools to voice their disagreement. These are the very same people that would have been potential customers, leading to a PR meltdown and loss of sales.
By disregarding emerging talent, brands are slowly starving an eco-system they depend on
Big brands can take a ripple and turn it into a wave, potentially change the life of that creator forever, whilst making a profit from fresh creativity. Hopefully brands will learn from this incident, otherwise we might end up losing out on some great designers' work on account of them feeling beaten by the system, before they've even started.
One place that supports indie designers, their work, and their stories, is Story Dots. This excellent fashion label and online store champions makers of ethical fashion, tells their stories in beautiful photo editorials, and gives them a wider platform to sell their work. Does that sound like you? They're looking for new makers to feature, and you can submit through Zealous. We can't wait to get inspired with the work that comes in, and who knows, hopefully help turn a ripple into a wave ourselves.
---
Opportunities, news and creative insights
The best of Zealous, straight to your inbox