Political art shines at Tate Modern's Hack the Space
Political art shines at Tate Modern's Hack the Space
---
Zealous' founder Guy Armitage won first place with his team of fellow hackers at Saturday's 'Hack the Space', a 24-hour event held at Tate Modern's Turbine Hall to mark the launch of 'The Space', a free online platform for digital art. Described as 'The world's biggest art hack', the hackathon's 140 participants were given a brief to turn data into a work of art in just 24 hours. They were given access to unusual data sets provided for by Tate, the Guardian and the Open Data Institute, among others.
``We wanted to make people aware of online security``
"$echo" by winning hackathon team
Armitage's team came up with '$echo', a site project that produced the name of one of the thousands of victims of the 2008 Sichuan earthquake every time a Chinese hacker hacked the site.
'We wanted to make people aware of online security and challenge their perspective of hacking by enabling people to hack into us,' Armitage explained. 'We let people hack into us and every time they hacked the site, it would play a musical note depending on how bad the hack was.'
The project's site received 70,000 hacks in just 20 hours: 'What's fascinating is it sounded like a heart beat, we were constantly being hacked.'
Armitage and his three partners noticed the frequent attacks by Chinese hackers to their site. 'Every time we got attacked by China, we saw it as an act of rebellion against the Chinese government,' he said. 'So we gave them a name of one the thousands who had died in Sichuan's earthquake, enabling the hacker to reclaim a name.'
The aim of the project was to show another side of hacking. Normally painted as a negative act on online security, hacking can also be viewed as a form of challenging a state's suppression of information.
``It sounded like a heart beat, we were constantly being hacked``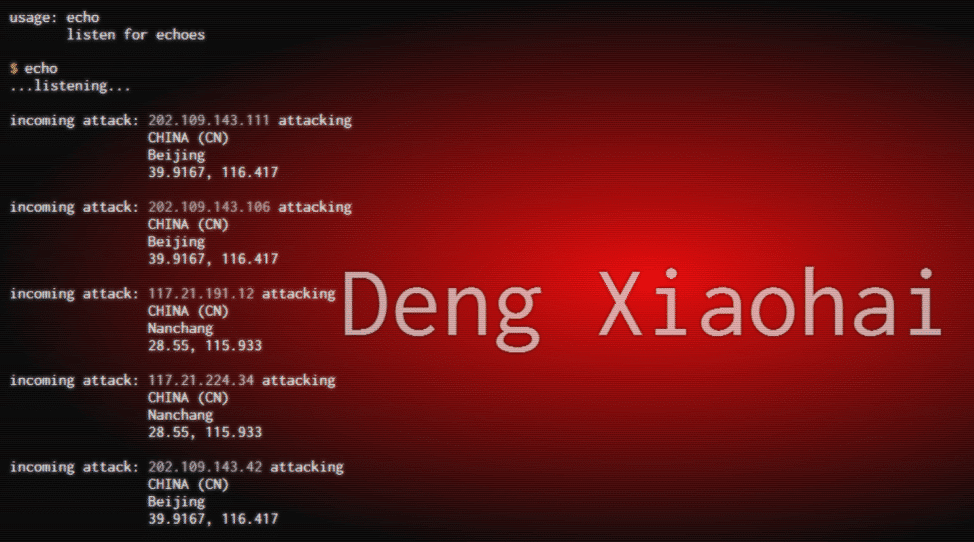 'We wanted to challenge why people hack,' he explained, adding that the project was inspired by Chinese artist Ai Wei Wei, who has an interactive piece at the Space. 'The essence of the project is against government repression.'
Armitage's team – which included generative artist Ron Herrema, developer Marko Samuli Kirves and Gavin Clark, head of Flash at Special Moves, had 24 hours to come up with the project. None of them knew each other and none of them had coded together before.
'$echo' came in first place at Hack the Space, winning a £4000 grant to further research the concept, as well as the possibility of working with Tate Modern in the future.
Second place went to a 3D projection of Barak Obama's face with Vladimir Putin's speech- proving that all politicians sound alike. Other notable projects included a child's windmill that moved according to the data it received, and a robotic lobster that read depressing tweets out loud. Click here for coverage by The Guardian. The story was also features by Forbes, in the following article.