YOU ARE ZEALOUS X
---
Submissions for Zealous X 2016 are now closed. The national search for creatives lasted 43 days, attracting over 1000 entries across 7 different disciplines. All creatives who took part in Zealous X were sourced through Zealous, any creative talent, anywhere in the world.
If you haven't already, you should register as a creative on Zealous. When we have calls that are recommended for you, we'll be able to get in touch and let you know about them.

If you'd like to stay up to date with the latest news at Zealous and ensure you don't miss our exciting opportunities when they come up, sign up to our mailing list here.
---
We'll share all shortlisted candidates with our independent panel of talented judges and promote you through our website, social media channels and, once you are chosen, showcase you at the festival!
Those selected will not only benefit from a free promotional platform, and a space to showcase their work, but also receive their share of half of all ticket sales we generate throughout the festival.
Zealous X will act as a catalyst to connect you to other influential individuals and like-minded creative, expanding your personal network.
---
Selecting those showcased for Zealous X will happen in two rounds.
Our first round will shortlist 45 entries in each discipline. The final 15 will then be selected from those 45 by a panel of independent industry judges. All 105 finalists, from the 7 disciplines will then be invited to showcase their works at Rich Mix in January 2016!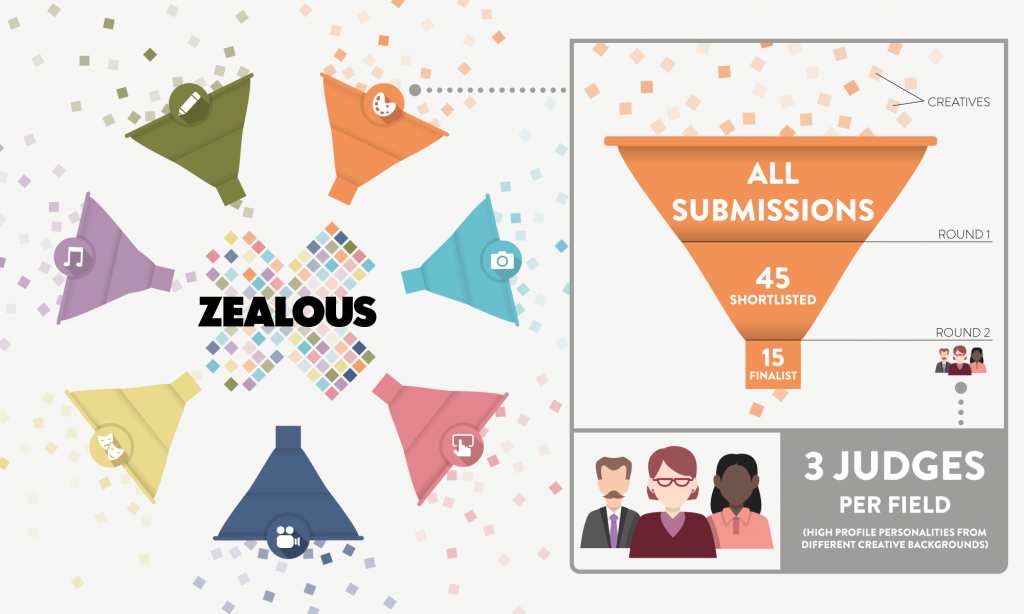 ---
---
Submissions open
02.09.2015
12:01 am
Submissions close
14.10.2015
11:59 pm
Shortlist Announced
19.10.2015
Results Announced
4.11.2015
Zealous X Opening
07.01.2016
Zealous X Closes
17.01.2016
Unfortunately, we will NOT consider any submissions outside this period. All times in GMT
Submissions have now closed
---
Below are a list of all of the public entries (if you've password protected your work, you have nothing to worry about. Only the judges can see your work!)
We can't wait to see what you create!