Emerge Finalists Announced
Emerge 2018 Finalists
---
It's time to celebrate the Emerge finalists!
Our guest judges selected the top 3 submissions from each category's shortlist—no easy feat when you consider the exceptional variety of creative talent in all 12 categories.
See the works of the 36 finalists below (you'll need to be logged in view the individual submissions)!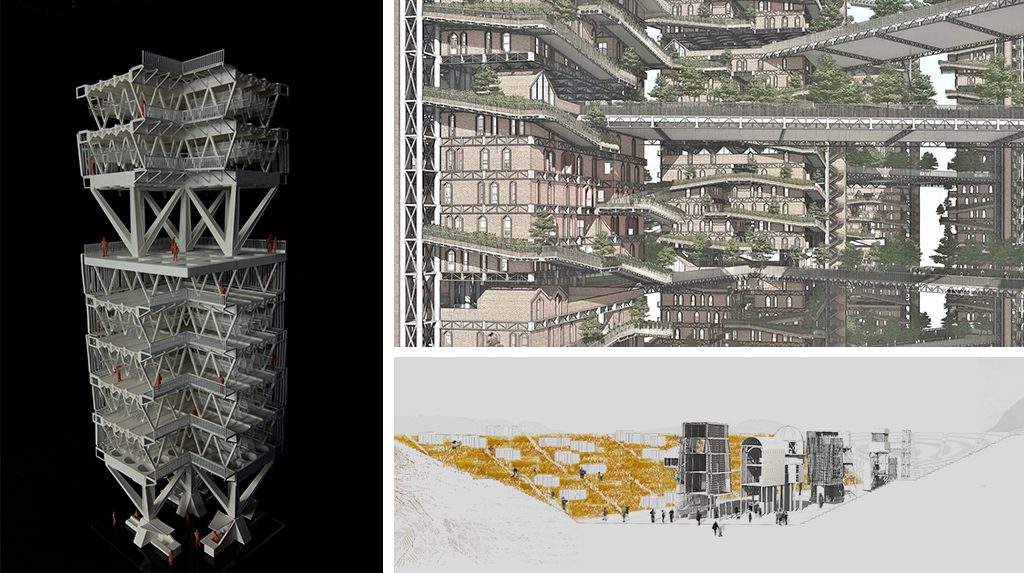 WINNER – Khanh Nguyen – Vertical Villages
The main idea of this project is the increase the relationship of people in the high rise building and response for the increase of population in London. Besides that, the new design tries to encourage people to get out of there house and interactive with their neighbour and nature.
Rimsha Rehman – Urban Apparatus
In the wake of the recent economic meltdown and an enormous influx of the refugee population Athens, has ever witnessed, 'Urban Apparatus' proposes the building of ephemeral architecture, propagating the idea of devising a new language for salvaging urbanism.
Thomas Cox – Battersea Sky Farm
A high-intensity vertical farm prototype located in the Nine Elms Master-plan in Battersea, London. Mobile pods on the towers facades contain leguminous plans which convert air pollution into an organic fertiliser for use within the farming Biomes.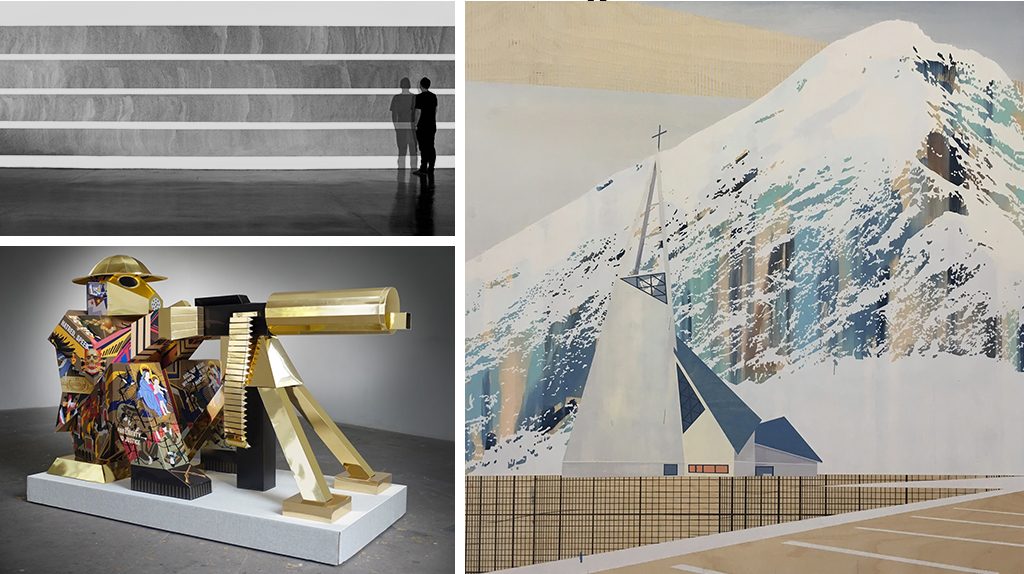 WINNER – Maxwell Rushton – Drawn Out
(2013-2015) – Four 10 meter rolls of paper, each filled with four repeated hand drawn lines, approximately ten million hand drawn lines in total, completed in isolation over the course of a year.
Ian Kirkpatrick – A Graphic War
Commemorating the centennary of the First World War, this project explores the role of graphic design as a tool of both war and peace. Funded by the Leverhulme Trust, these four large cardboard sculptures use packaging design to challenge romantic ideals of war and sacrifice.
Emily Moore – In Pursuit of Mountaintops
Looking back on an Icelandic adventure, Moore is drawn to the patterns and forms found within the natural environment and the contrasting, geometric shapes and lines of the man-made structures which inhabit it.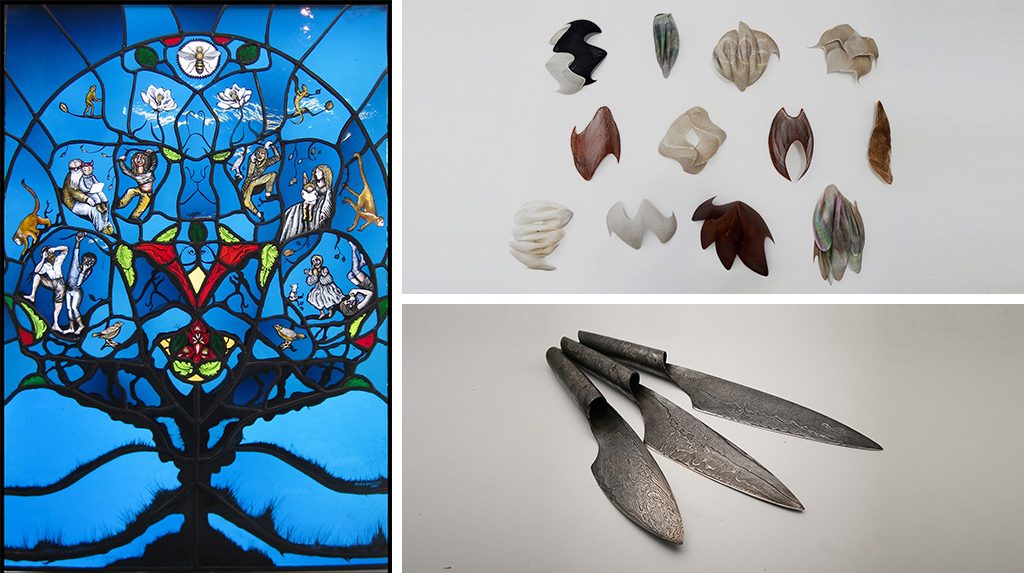 WINNER – Pinkie Maclure – Radical Stained Glass
Reinventing and progressing a medieval art form in order to protest, amuse and tell stories about the madness of modern life. Pieces include, 'Beauty Tricks' (stained glass light box), 'Rewilding at the Clootie Tree' (light panel), 'The River' and more.
Kuniko Maeda – The Landscape of Paper
This project reconsiders our over consumption of paper and revaluates the paper's actual potential lifecycles. The aim was to upcycle discarded paper applying traditional Japanese craft technique and modern technology and turn waste into a precious material.
Leszek Sikon – Wave Knives
Picking up an object of daily use and redesigning it to find a perfect balance between modern design and everyday practicality.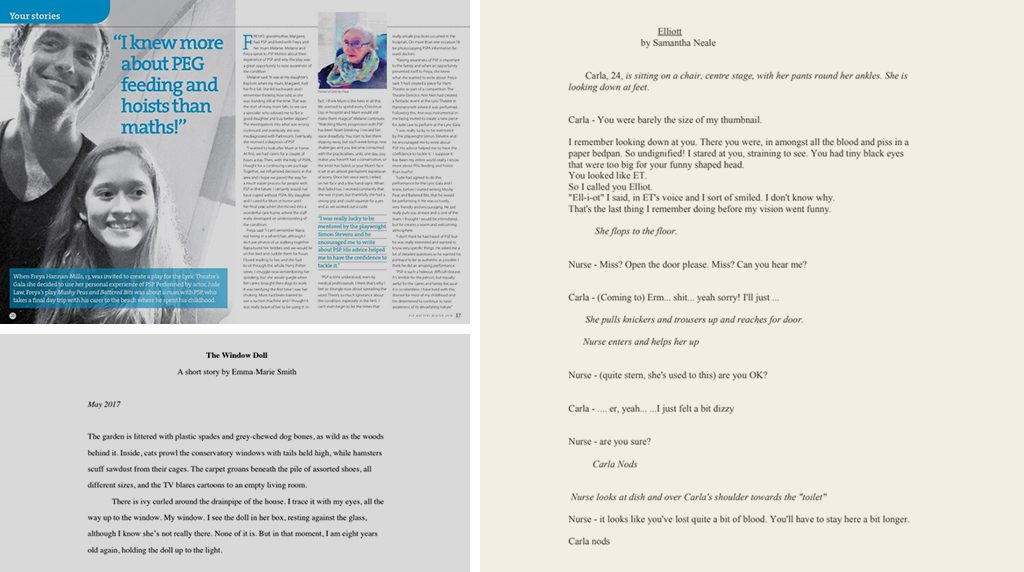 WINNER – Emma-Marie Smith – The Window Doll
A story of girlhood, shattered youth and parental abandonment – with some funny moments too.
Freya Hannan Mills – Mushy Peas and Battered Bits
Created for Jude Law to perform at the Lyric, Hammersmith Gala. Director Sean Holmes. Mentor Simon Stevens.
Samantha Neale – Elliott
The story of a young woman's experience of an abortion. Elliott was performed at a script in hand event (Hear Her Roar) which made it into The Guardian readers picks for 2017.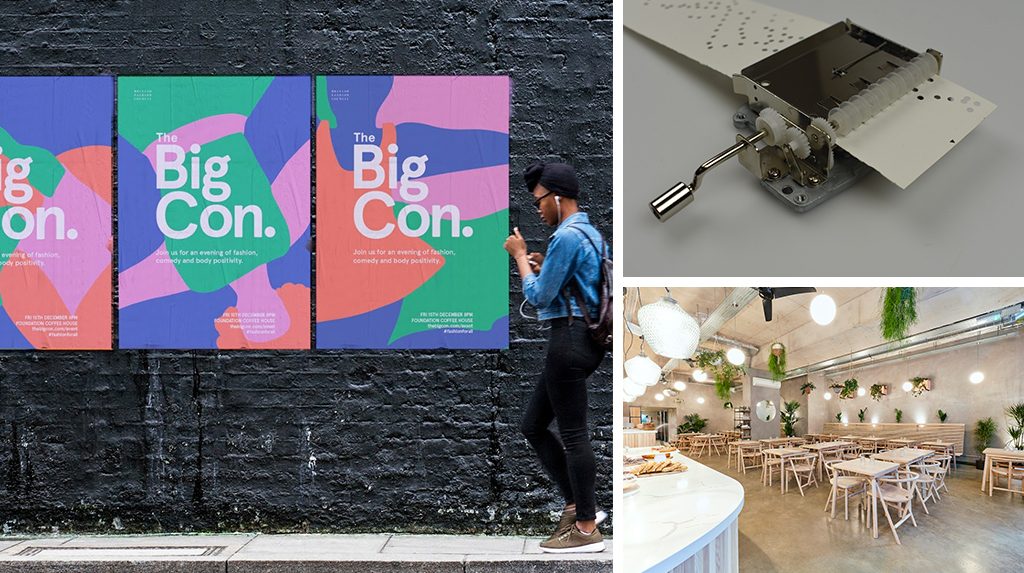 WINNER – Katie O'Rourke – Body Positivity Campaign for BFC
Branding for an event to improve the image of the British Fashion Council and re-position them as an organisation which encourages body positivity. 'The Big Con' is intended to be a recurring event of fashion and comedy, to bring women together to celebrate their bodies.
Charles Dedman – Turner Carver
A contemporary take on a traditional windsor chair. The processes and tools used in its manufacture defines it form and function. The steambend armrest frames a CNC sculpted seat, both of which are suspended by turned legs and support with turner tenon joints.
Jess Russell – Made in Scotland
The concept is to highlight the essence of Conqueror's brand. Conqueror paper is a product of Scotland, resonating through the production process it 'impresses upon the paper a sense of place'.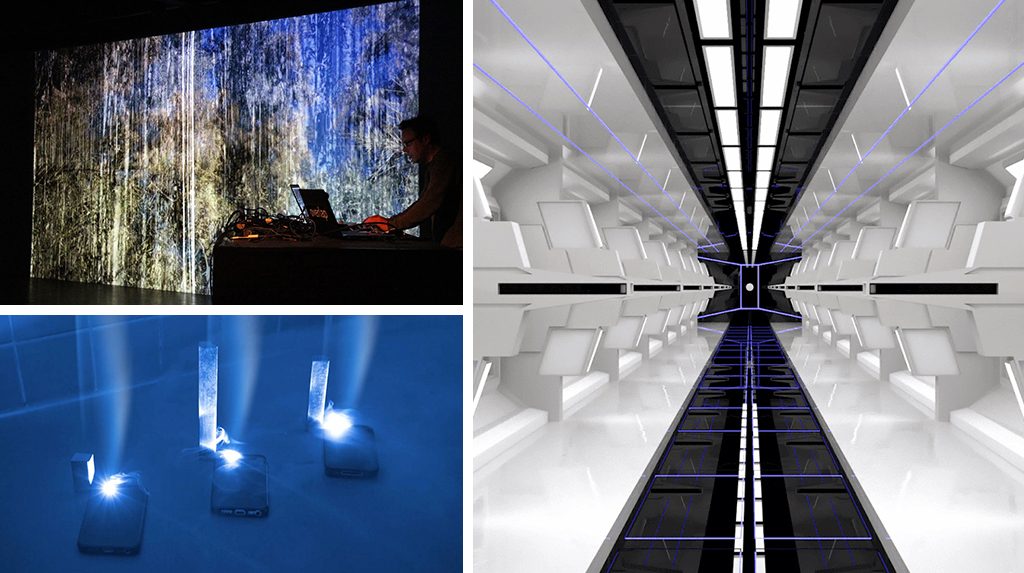 WINNER – Jake Moore – Dreams in Ultraviolet
The station of his manufacture was once a beacon of male procreative power. Now void, its walls remain lined with the pointed monuments of a forgotten machismo; an authority rendered null. Dreams in Ultraviolet is a computer animation with sound and the first part in a trilogy.
Daria Jelonek – Technological Nature
An art research project investigating the recreation and augmentation of natural phenomena in technology. Through moving image, an immersive installation and WebVR, this project aims to create a new mindset for the hybrid of nature and technology.
Michael Denton – Shuffle Chuckle
SC (Aquatint) is an ongoing, multi loop project centring upon infinite variants of Overlap's transitional landscapes and melodic minimalist music, contrasted by surreal additions of the prosaic. Shown in different forms, as AV performance, installation and transitional painting.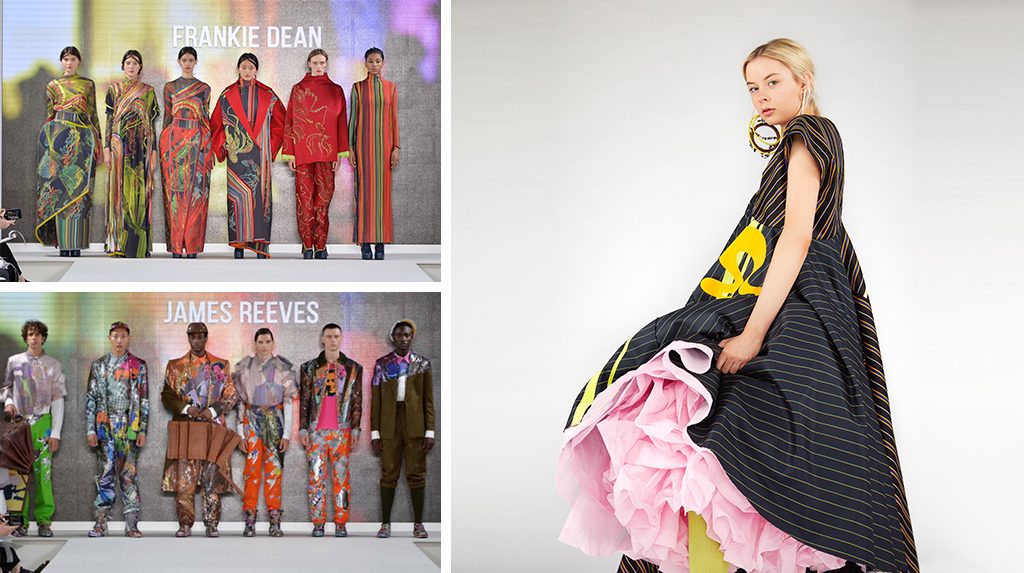 WINNER – James Reeves – Graduate Collection
This collection explored formality through exploring military and white collar worker references. I used printed sequins with images of my old family photographs to explore an impossible conversation with my Great Grandfather relating to his concept of formality verses mine.
Frankie Dean – Graduate Collection
Exploring the idea of the physicality of line as a medium which travels around and away from the body. This provided the basis to creating a collection which expressed an interconnection lines both organic and digital, sculptural and draped.
Samantha Hince – Graduate Collection
The collection consists of voluminous and skilfully cut garments combined with layered textiles. Its bold and impactful without being overwhelming or chaotic. Based on Women's Liberation in the 70s, I created a character, whom subsequently became my muse.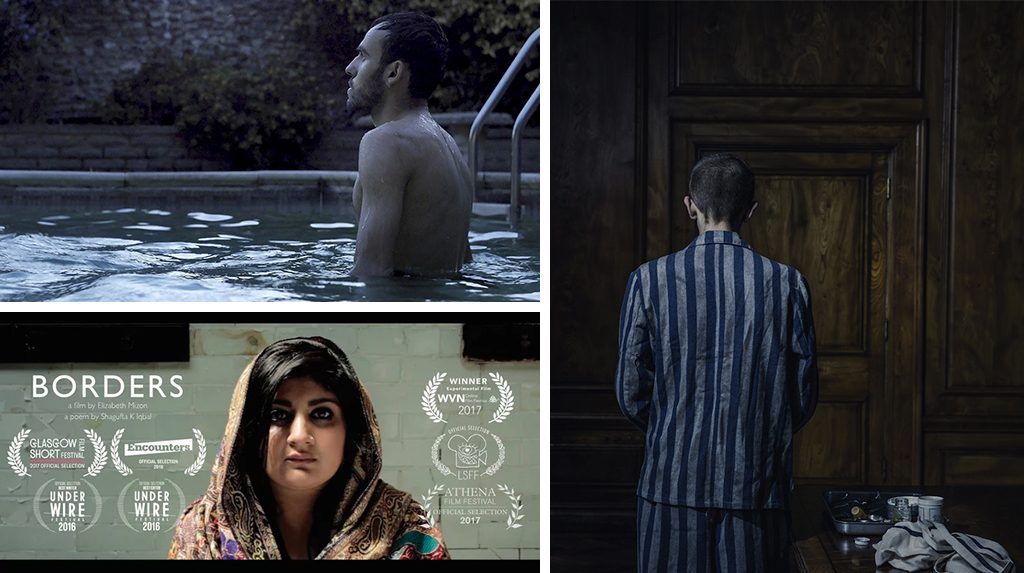 WINNER – Elizabeth Mizon – Borders
Why would a woman need a physical examination to enter the country? This short film by Elizabeth Mizon and poet Shagufta K Iqbal gives a personal and intimate insight into the hushed-up 'virginity tests' that the UK Home Office forced upon women migrants in the 1970s.
Ben Price – Hope Dies Last
Based on real events, a Polish political prisoner cuts the hair of Rudolph Höss. It's a story we might not be familiar with. A story we should be familiar with.
Ruth Grimberg – Learning to Swim
Ingrid and her son Ross welcome Syrian refugee Ahmed into their home in the quiet English countryside and find a way to resist the uncertainty and fear we all face.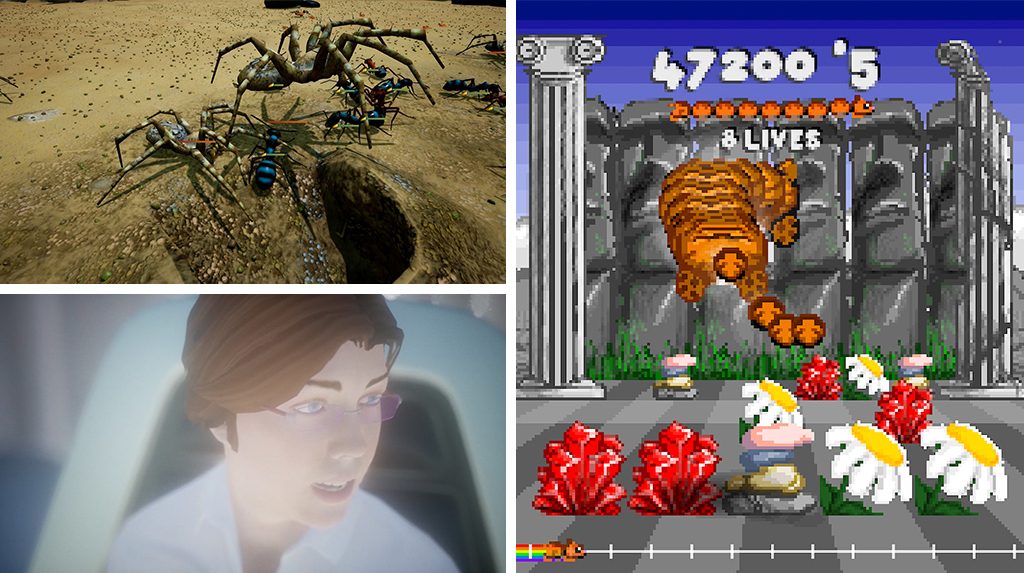 WINNER – Liam Comerford – Empires of the Undergrowth
An ant colony management game. Underground, the player excavates their nest, constructing tunnels and chambers. On the surface, they claim territory, gather resources, overwhelm fearsome arachnids and clash with other colonies.
Adam Comrie – Dream Job
An Absurdist game that exists in the space between dream and reality. It's a world that feels incoherent, funny and strange, yet hauntingly familiar. This point and click narrative game is about the destruction of individualism and the failure of communication.
Quang Nguyen – MaoMao Castle
Casual arcade game where you control a flying Cat-Dragon, on their fantastical journey back to their castle. Collect rainbows, avoid obstacles and free your Cat-Dragon friends. Perform the Speed Dash to crash through trees, pillars and moai, trying not to lose your 9 lives.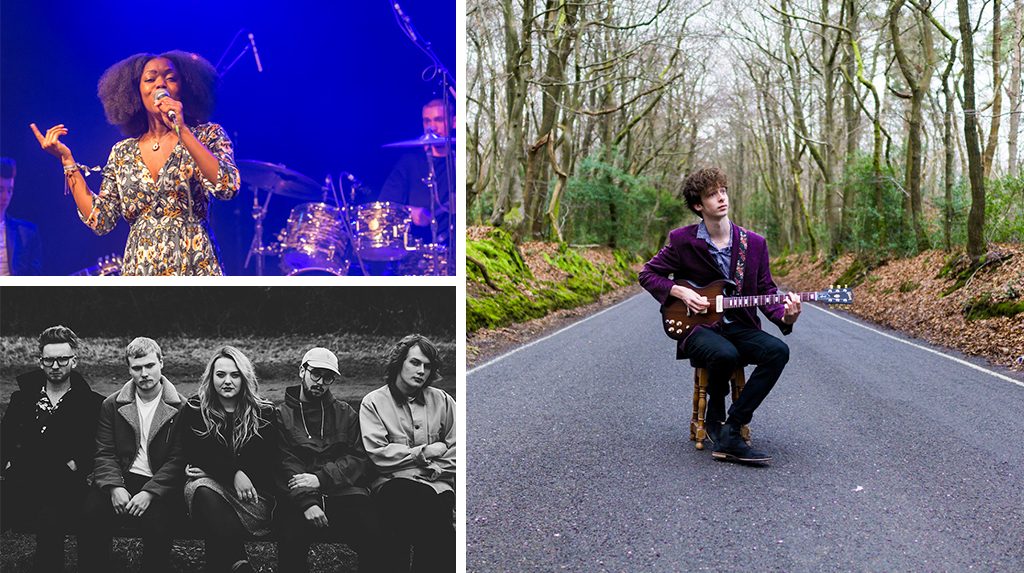 WINNER – Breantonia – Organic EP
Breantonia is a 23 year old singer/songwriter/producer from South London. Having spent over 10 years producing music for fun, Breantonia has written with and performed backing for multiple up and coming artists. Now, she's debuting on her own with the EP, 'Organic'.
Ryan Burman – Ryan Burman
Singer songwriter from Surrey. Tom's music is a fusion of Folk, Indie, Soul and Jazz. Burman has worked and recorded in Grammy nominated studios, and written and toured with international artists. His debut EP 'To Be Continued' was released in August 2017.
Nakamarra – Nakamarra
Female fronted indie electronic five piece offer a harmonious mix of indie grooves, ambient instrumentals and cutting vocals. Emerging from such an isolated and regional part of the country (Isle of Wight), they endeavour to push through the industry that has a monopoly of male-led bands.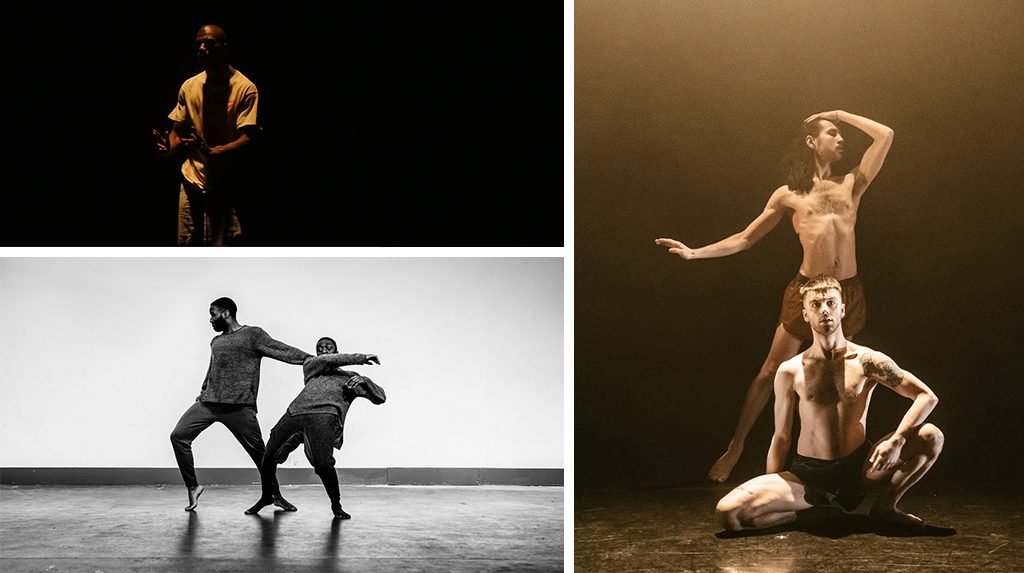 WINNER – Lanre Malaolu – Figure
Figure is a dance film about boys growing up without fathers. It explores how early detachment from a father figure affects emotional growth and engagement with the world. Through a fusion of physical theatre and hip-hop dance, we follow two young men as they search for answers.
Henry Ward – Belly of the Beast
An investigation into a movement language derived from groove, power and musical possession. A piece where no dancer or audience member is left behind. I attempted to create a world where I could host both my movement style and my dancers'. It has dirt and meat and passion.
Pierre & Baby – Achilles
Touching on queer experiences, 'achilles' unravels modern attitudes toward online dating apps, reflecting the instantaneous nature of social media and the damaging affects the need for instant gratification can have on our emotional well-being.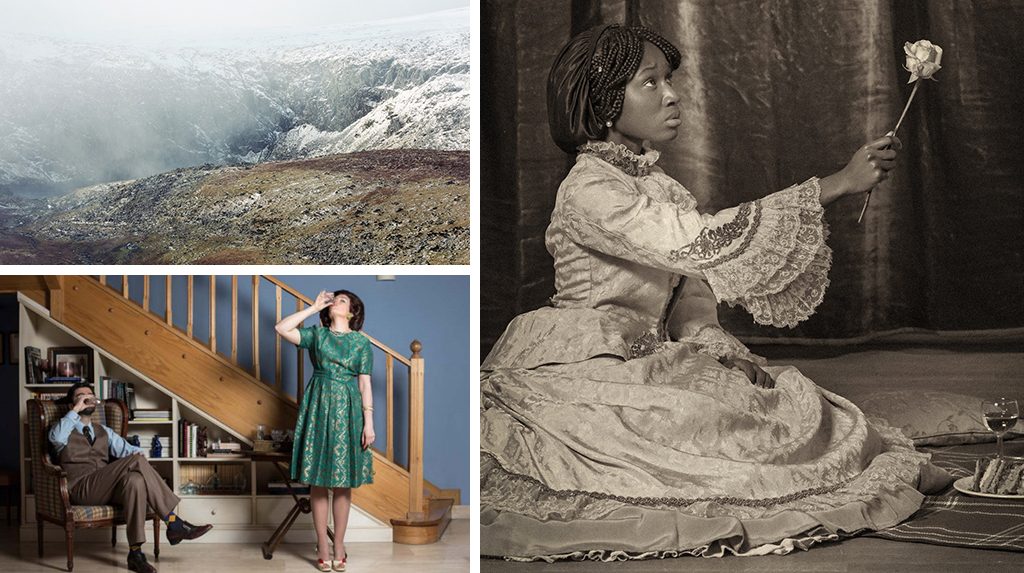 WINNER – Nicholas Jr White – Black Dots
An exploration of mountain bothies and bothy culture throughout the UK. The result of almost three years spent traversing our most remote landscapes in order to better understand what these buildings are, where they're located and the culture that surrounds them.
Heather Agyepong – Too Many Blackamoors, 2015
Inspired by a 19th century Carte-de-visite of Lady Sarah Forbes Bonetta. Sarah was the West African adopted goddaughter of Queen Victoria who came to live in England at a young age. The images are based on Heather's own experiences as a young black woman, dealing with the macro and micro traumas of racism encountered while travelling around Europe.
Marta Soul – Ama y bebe
Ama y bebe ('Love and drink' in Spanish) reflects upon the contemporary concept of 'symmetrical marriage'. A symmetrical marriage takes place when both members of the couple have similar economic status, and that has been achieved after women started to adopt professional roles.