Celebrating our 10th Anniversary!
It is humbling to see an idea I had ten years ago develop into a network of over 45,000 artists and arts organisations. Although we should use our anniversary to celebrate what we achieved, this feels only like the beginning! Here's what to expect from our anniversary year (and beyond).
The community has always been at the very heart of why I founded Zealous, so it's only right to use our anniversary to celebrate you.
When the team discussed how to do so, the word "Emerge" floated about the room a lot. With COVID floating about the room a lot as well, we thought the better of it.
So instead, we decided to focus on keeping things simple (for now) and put our resources and knowledge into equally impactful, but more immediate changes.
For Creators
Increasing the prizes of Zealous Stories
Our monthly Zealous Stories competition will continue to get your work in front of exciting judges, celebrate your story and, where possible, compliment the offering with feedback on your portfolio. We're thrilled to say that during our anniversary year, we are increasing the cash prize from £100 to £250, starting from this month.
We know this time has been challenging and hope the extra money will help. 
For Organisations
Publishing a decade of insights
Having hosted hundreds of opportunities, we've learned valuable lessons on how to manage successful open calls. Instead of sitting on that goldmine of knowledge, we've decided to get the pickaxe out and share it with you. 
The ultimate guide to taking submissions is a series of easily digested articles to support you from the moment an idea pops into your head, to the moment you measure the impact of your programme.
In each section, you'll find steps to keep your call inclusive, run a successful programme despite the pandemic and suggestions on how Zealous can help you.
For All
Sharing your news
Whether you're an artist with exciting news, or an arts organisation supporting creators, we never cease to be inspired by your work.
For that reason, we have now included a community section in our monthly newsletter to share your news with thousands of creators and creative organisations for free.
You can submit your events, open calls, celebrations, calls for collaborators, jobs, etc., to our monthly newsletter by filling out this form.
For All
Transforming our platform
Our platform has been evolving ever since my first deployment from a coffee shop in November 2011.
What started as a blog publishing artists works, became a portfolio site, and then based on the communities feedback asking for more opportunities, has morphed into the UK's best creative submissions platforms.
Once again we've listened to your feedback and we've planned to completely revamp portfolios, introduce comments and ensure accessibility is reviewed across the entire platform. For a list of upcoming changes, you can explore our roadmap here.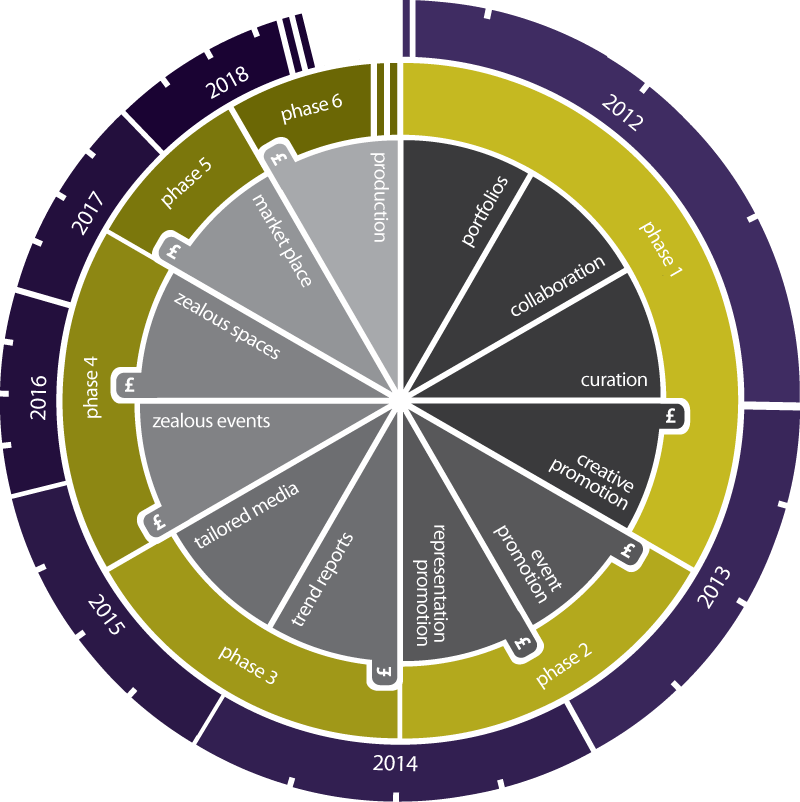 Fetching infographic mapping our 10 year startegy (2012)
When I first planned Zealous a decade ago, I created this fetching infographic charting our path in the next ten years (infographics were very trendy back then, so were long flowing locks and a beard, but we won't go there).
We haven't always followed the path we chartered, but the purpose to support the creative ecosystem still burns brightly. The last decade hasn't always been easy, but it has always been worth it.
The next decade won't be any different, we will chart a path towards helping you flourish in your craft and aim to be as agile as we can to allow us to serve you better. And hopefully, meet more of you in the real world as we go!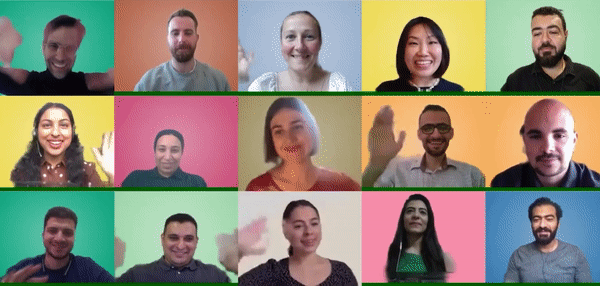 Our amazing team who makes everything we do possible (2021)
Major milestones are also the time to reflect on who has made this journey possible and thank them – so thank you to our team (past and present) who have all added their own bricks to our house of creativity, our investors who make sure we have the tools to do so and of course you, for making the building worth it (and reading to the end of this long article!)
Thank you for joining us on our journey. It has been an honour to serve you, and we can't wait to see what the next ten years hold!
Simplify your submissions in minutes
Experience our submission management platform with a customised online tour.