Confirmation overview
The final stage of the submission process is where you will submit your application. 
As you come to the end of the payment step (if there is no payment needed, this will happen on the application form step), you will be prompted to either 'Save As Draft' or 'Submit'. Submitting the application makes you eligible for the opportunity, but you are still able to edit after the application has been submitted. 

Once you have submitted, a pop up box will confirm this for you. You will be given the option to 'Submit Again', or you can click 'Done' to return to your dashboard. You will also be able to sign up for recommended opportunities every two weeks, and features, insights and news every month. You can also check later on if you have submitted successfully.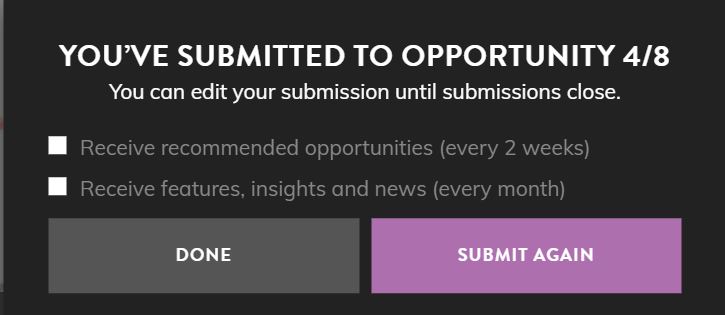 Congratulations! You have now submitted for an opportunity.