Creating an opportunity
Your opportunity will not be visible to anyone until you publish it.
First things first, welcome to Zealous! 
You can create your first opportunity by following these steps:
Log in to your account, or create one with us

If you haven't been brought directly to creating an opportunity, go to My opportunities in the top menu.

Click on Create Opportunity, which will be a purple button at the top right

Start drafting your opportunity

If you haven't been brought directly to creating an opportunity, go to My opportunities in the top menu.
The opportunity begins with the overview – this information represents what candidates will see when the opportunity is listed on our pages. To get the most attention use impactful imagery (ideally without text) and a short description which highlights why candidates should apply (think of it as an elevator pitch). 
When it comes to imagery, the sizing needs to be 1200x630px with a safe area centre of 800x350px. This is because the image will be used as your banner, as well as on the explore page. Anything you want to be seen by the candidate should be kept central.
It's also worth noting it's best to keep titles as short as possible. To do so you can remove the name of your organisation in the name of your opportunity – since they will be shown alongside each other anyway..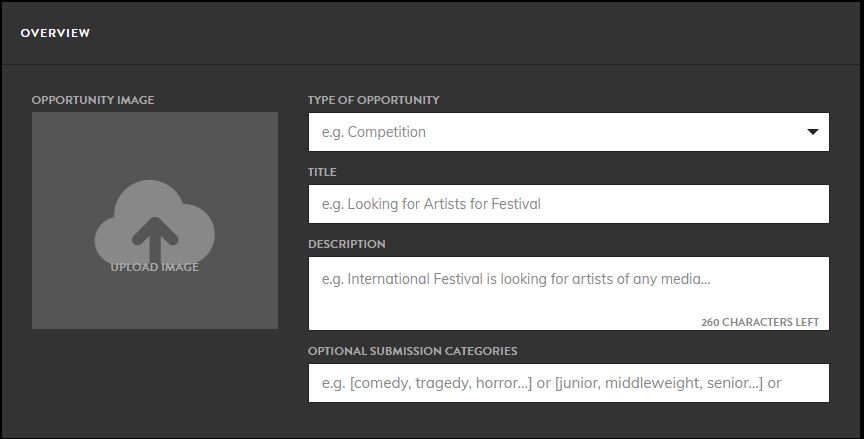 The 'What talent do you need' and 'Where should the talent be based' sections help us to recommend the opportunity to our members, especially those who work in specific fields or live in specific areas.


The key dates, which include when the submissions open, when they close, and when judging begins, mean that the opportunity will automatically do those things on the given dates. You can add extra rounds once the opportunity has been drafted.

Rewards show what the applicants can gain from the opportunity, and will increase submissions dramatically. These are split in to five categories:
Experience

Exposure

Money

Prize

Other

Guidelines are very important in showing the applicants if they are eligible and exactly what they need to do. This is an open field which allows you to let users know what they need to submit, you can paste content directly in this box copied from a word document.
You can also upload PDF files, images and more to make this opportunity as clear as possible to candidates, as well as showing past work and highlighting sponsers. 
You may also have terms and conditions that you don't want written up in the guidelines. Instead, you can include a link to these terms.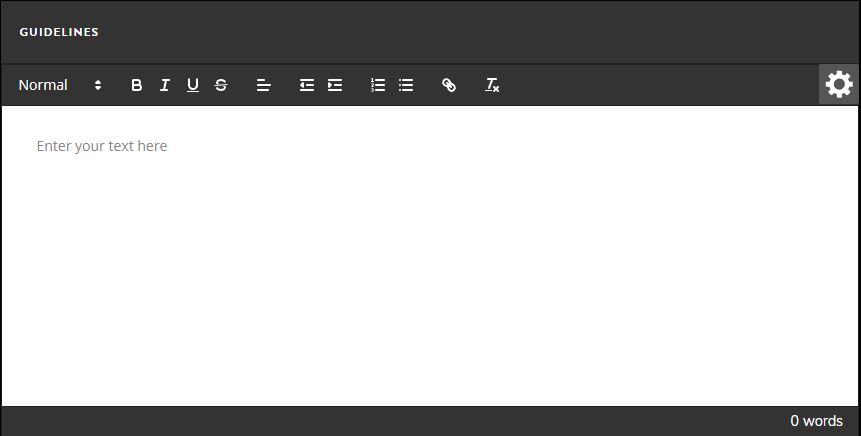 You can also upload and embed videos of past opportunities, and sponsors. These all build excitement to submit to your call. 
Once you have pressed 'Draft Opportunity' at the bottom of the page, you will be forwarded to your opportunities dashboard. It is currently in draft, allowing you to update submission fees, add judges, rounds, customise your application form and more.